Networking For Dummies, 10th Edition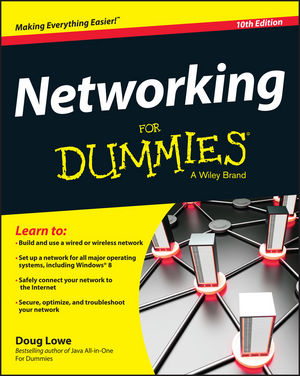 Networking For Dummies, 10th Edition
ISBN: 978-1-118-47412-9
Mar 2013
456 pages
Product not available for purchase
Description
This updated bestseller covers Windows 8, new storage and backup technologies, and more
Both beginning network administrators and home users have made previous editions of this book a top seller. Now fully updated, this edition shows you step by step how to set up and maintain a network and covers Windows 8 and Windows Server 2008 R2 SP1. Author Doug Lowe also includes updated coverage of broadband technologies as well as storage and back-up procedures, all in his easy-to-follow style. You'll learn to build a wired or wireless network, secure and optimize it, safely connect to the Internet, troubleshoot problems, and much more.
A perennial bestseller, this guide to networking has been fully revised to cover Windows 8, Windows Server 2008 R2 SP1, new broadband technologies, and updated storage and backup procedures
Provides introductory-level networking fundamentals for those inexperienced in network technology
Covers networking with all major operating systems
Shows how to build, secure, and optimize a network, safely connect to the Internet, troubleshoot problems, and more
Networking For Dummies, 10th Edition walks you through the process of setting up and maintaining a network, at home or in the office.
Introduction 1
Part I: Getting Started with Networking 7
Chapter 1: Let's Network! 9
Chapter 2: Life on the Network 21
Chapter 3: More Ways to Use Your Network 41
Part II: Setting Up a Network 63
Chapter 4: Planning a Network 65
Chapter 5: Dealing with TCP/IP 83
Chapter 6: Oh, What a Tangled Web We Weave: Cables, Switches, and Routers 107
Chapter 7: Configuring Windows Clients 125
Chapter 8: Connecting Your Network to the Internet 139
Chapter 9: Setting Up a Wireless Network 147
Part III: Working with Servers 163
Chapter 10: Setting Up a Server 165
Chapter 11: Managing Windows User Accounts 183
Chapter 12: Managing Network Storage 199
Chapter 13: Managing Exchange Server 2010 213
Chapter 14: Creating an Intranet 231
Part IV: Cloudy with a Chance of Gigabytes 245
Chapter 15: Life in Cloud City 247
Chapter 16: Managing Mobile Devices 257
Chapter 17: Connecting from Home 271
Part V: Managing and Protecting Your Network 279
Chapter 18: Welcome to Network Management 281
Chapter 19: Solving Network Problems 291
Chapter 20: Backing Up Your Data 307
Chapter 21: Securing Your Network 321
Chapter 22: Hardening Your Network 337
Chapter 23: Network Performance Anxiety349
Part VI: More Ways to Network 359
Chapter 24: Going Virtual 361
Chapter 25: Networking with Linux 373
Chapter 26: Macintosh Networking 391
Part VII: The Part of Tens 399
Chapter 27: Ten Networking Commandments 401
Chapter 28: Ten Big Network Mistakes 405
Chapter 29: Ten Things You Should Keep in Your Closet 411
Index 415
Updates
Please check back here for updates.