Networking For Dummies, 8th Edition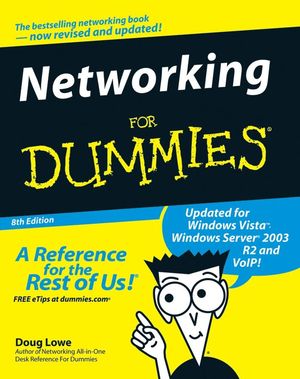 Networking For Dummies, 8th Edition
ISBN: 978-1-118-05100-9
Feb 2011
432 pages
Product not available for purchase
Description
Company just hooked you up to a network and you're wondering what the heck you're supposed to do with it? Tired of burning spreadsheets onto CDs just so you can share them with coworkers, and you're wondering what it'll take to set up a network in your organization? Been tasked with setting up a network and you don't have a clue about where to begin? Don't fret, you'll find all the answers you're looking for in Networking for Dummies.

Written for even the most network-shy novice, it begins with the most basic of basics—"A network is nothing more than two or more computers connected by a cable (or wireless adapter) so that they can share information"—and progresses through all the essentials, from cables, routers and hubs to building a wireless network. In clear, simple language, peppered with enough wry quips and jabs at the cult of IT to make it fun, Doug Lowe walks you through:
What a network is and how to use it
How to build a wired or wireless network
How to secure and optimize a network
How to troubleshoot a network
Safely connecting a network to the Internet
Networking with all major operating systems
This new edition of the bestselling guide features extensive updates on the latest networking tools and trends—including new Windows Vista and Server 2003 R2—the latest broadband options, new storage and back-ups, and an all new-chapter on VoIP and Internet telephony.
Introduction.
Part I: Let's Network!
Chapter 1: Networks Will Not Take Over the World, and Other Network Basics.
Chapter 2: Life on the Network.
Chapter 3: More Ways to Use Your Network.
Part II: Building Your Own Network.
Chapter 4: Planning Your Network.
Chapter 5: Oh, What a Tangled Web We Weave: Cables, Adapters, and Other Stuff.
Chapter 6: Dealing with TCP/IP.
Chapter 7: Setting Up a Server.
Chapter 8: Configuring Windows XP and Vista Clients.
Chapter 9: Wireless Networking.
Part III: Getting Connected.
Chapter 10: Connecting Your Network to the Internet.
Chapter 11: Running a Mail Server.
Chapter 12: Creating an Intranet.
Chapter 13: Is It a Phone or a Computer? (Or, Understanding VoIP and Convergence).
Chapter 14: Connecting from Home.
Part IV: Network Management For Dummies.
Chapter 15: Welcome to Network Management.
Chapter 16: Managing User Accounts with Active Directory.
Chapter 17: Managing Network Storage.
Chapter 18: Network Performance Anxiety.
Chapter 19: Solving Network Problems.
Chapter 20: How to Stay on Top of Your Network and Keep Its Users Off Your Back.
Part V: Protecting Your Network.
Chapter 21: Backing Up Your Data.
Chapter 22: Securing Your Network.
Chapter 23: Hardening Your Network.
Part VI: Beyond Windows.
Chapter 24: Networking with Linux.
Chapter 25: Macintosh Networking.
Part VII: The Part of Tens.
Chapter 26: More Than Ten Big Network Mistakes.
Chapter 27: Ten Networking Commandments.
Chapter 28: Ten Things You Should Keep in Your Closet.
Chapter 29: Layers of the OSI Model.
Index.