Networking at Writer's Conferences: From Contacts to Contracts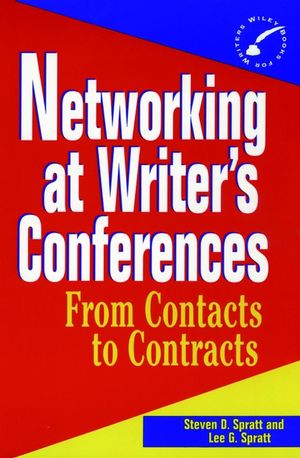 Networking at Writer's Conferences: From Contacts to Contracts
ISBN: 978-0-471-05522-8 May 1995 179 Pages
Description
Use writer's conferences to establish career-making contacts withagents, editors, and other writers

Veteran writers and editors Steven and Lee Spratt offer savvyadvice on using writer's conferences as your primary networkingtool. They'll help you make strong and lasting connections withagents, editors, and other writers by showing you how to:
* Present yourself as a professional in any situation, even ifyou've never sold a word
* Follow up on new contacts to get the most out of every lead
* Find and evaluate hundreds of writer's conferences and workshopsthroughout the country
* Abide by the rules of publishing protocol when sending out queryletters, proposals, and manuscripts
* Transform you're conference contacts into book contracts

With this essential guide, you'll make and keep the importantconnections that are a vital part of every professional writer'slife.
Table of contents
BEFORE THE CONFERENCE.

What Is a Writer's Conference?

Why Are All These People Really Here?

Evaluating Your Status as a Writer: A Questionnaire.

Which Conference Is Right for You?

Decide Your Agenda and Set Your Goals.

Educate Yourself.

Qestions You Should Never Ask and Why.

The Right Tools for the Job.

DURING THE CONFERENCE.

Present Yourself Professionally.

You've Arrived;
Now What?

Making Contacts.

Personal Consultations.

AFTER THE CONFERENCE.

Once You're Home.

Where Do You Go from Here?

Other Networking Opportunities.

Writer's Conferences and Workshops.

Bibliography.