Neuro-Linguistic Programming Workbook For Dummies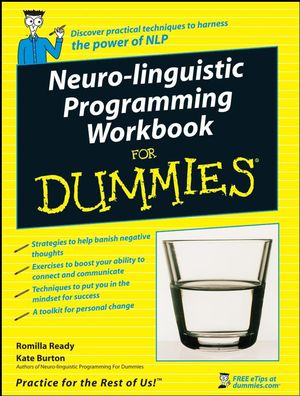 Neuro-Linguistic Programming Workbook For Dummies
ISBN: 978-1-119-99220-2
Dec 2010
306 pages
Description
If you are one of the millions of people who have already discovered the power of NLP, Neuro-linguistic Programming Workbook For Dummies will allow you to perfect its lessons on how to think more positively and communicate more effectively with others.

This workbook is packed with hands-on exercises and practical techniques to help you make the most of NLP's toolkit for new thinking and personal change. These can have an impact on many aspects of your life: from helping you change your negative beliefs, to building rapport and influencing others, to taking charge of the direction your life is taking. Take your understanding of NLP to the next level, and reap the benefits.

Neuro-linguistic Programming Workbook For Dummies includes:

Getting Your Mindset Right with NLP

Setting Sound Goals

Recognising Your Unconscious Values

Recognising How You Distort Thinking  

Developing Personal Rapport

Managing Your Emotions and Experiences

Changing Habits and Modeling Success

Recognizing What Works

Adapting Language with Metamodeling and the Milton Model
Introduction.
Part I: Setting Up Your NLP Journey.
Chapter 1: Where Are You Right Now?
Chapter 2: Getting Your Mindset Right with NLP.
Chapter 3: Planning Your Road Map.
Chapter 4: Working with Your Unconscious Mind.
Chapter 5: Recognising How You FilterYour Thinking.
Part II: Connecting with the World.
Chapter 6: Seeing, Hearing, Feeling.
Chapter 7: Developing Rapport.
Chapter 8: Influencing with Metaprograms.
Part III: Honing Your NLP Toolkit.
Chapter 9: Managing Your Emotions.
Chapter 10: Taking Charge of Your Experiences.
Chapter 11: Aligning Yourself with Your Purpose.
Chapter 12: Changing Strategies for Success.
Chapter 13: Working with Your Time Line.
Part IV: Riding the Communications Escalator.
Chapter 14: Adapting Language with the Meta Model.
Chapter 15: Adapting Language with the Milton Model.
Chapter 16: Storytelling Magic.
Part V: The Part of Tens.
Chapter 17: Ten Ways of Bringing NLP into the Workplace.
Chapter 18: Ten (Or So) Ways of Keeping Your NLP Skills Alive.
Chapter 19: Ten NLP Resources.
Index.