Neurobiology: From Molecular Basis to Disease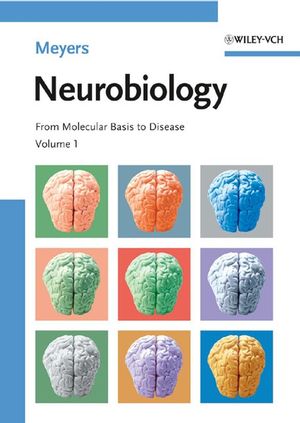 Neurobiology: From Molecular Basis to Disease
ISBN: 978-3-527-32293-0
May 2008, Wiley-Blackwell
836 pages
Description
This careful selection of contributions has been extracted directly from the successful R.A. Meyers' Encyclopedia of Molecular Cell Biology and Molecular Medicine and collected in two volumes. Designed for readers of all levels of expertise, the uniform structure of the articles makes them very easy to use, and every chapter includes a keyword glossary, concise summary and comprehensive references to guide the reader deeper into the literature.
Covering topics on cell biology and biochemistry of the nervous system, neurodevelopmental biology as well as diseases, this is an ideal handbook and ready reference for neurobiologists, cell biologists, molecular biologists, and pharmacologists.
Also includes an article on "Prions" by Nobel laureate Stanley Prusiner.
Volume 1
I Cell Biology and Biochemistry of the Nervous System
Single-Cell Neurobiology
Neuron Chemistry
Receptor Biochemistry
Rhythmic and Temporal Processes in Biology
Sense of Smell
Pain Transduction: Gating and Modulation of Ion Channels
Invertebrate Neuropeptides

II Neurodevelopmental Biology
Brain Development
Stem Cells in the Adult Brain: Their Identification and Role in Neurogenesis
Behavior Genes
Neurobiology and Development of Nematodes

Volume 2
III Neurological Diseases
Prions
Motor Neuron Diseases: Molecular Mechanism, Pathophysiology, and Treatments
Motor Neuron Diseases: Cellular and Animal Models
Alzheimer's Disease
Down Syndrome, Molecular Genetics of
Fragile X Linked Mental Retardation
Triplet Repeat Diseases
Neural Tube Defects, Molecular Biology of
Receptor, Transporter and Ion Channel Diseases
Pathophysiology of Stroke

"This book maintains its connection to that work, but is a unique contribution to neurosciences that is worth its presence in most academic departmental libraries." (
Doody's
, May 2009)
"An excellent introduction into the biology of prion diseases in both humans and animals and describes a variety of important model systems." (Journal of Chemical Neuroanatomy, May 2009)
"[This] book is a ready reference for neurobiologists, cell biologists, molecular biologists and pharmacologists." (RoSearch, December 2008)