Neurodegenerative Diseases and Metal Ions, Volume 1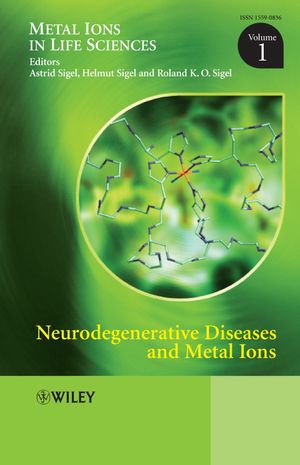 Neurodegenerative Diseases and Metal Ions, Volume 1
ISBN: 978-0-470-02811-7 July 2006 488 Pages
Description
About the Series...
Metal Ions in Life Sciences links coordination chemistry and biochemistry in their widest sense and thus increases our understanding of the relationship between the chemistry of metals and life processes. The series reflects the interdisciplinary nature of Biological Inorganic Chemistry and coordinates the efforts of scientists in fields like biochemistry, inorganic chemistry, coordination chemistry, molecular and structural biology, enzymology, environmental chemistry, physiology, toxicology, biophysics, pharmacy, and medicine. Consequently, the volumes are an essential source for researchers active in these and related fields as well as teachers preparing courses, e.g., in Bioinorganic Chemistry.
About this Book...
Volume 1, devoted solely to the vital research area concerning the role of metal ions in neurodegenerative diseases, offers in 15 stimulating chapters an authoritative and timely view of this fascinating subject.
Written by 41 internationally recognized experts, Neurodegenerative Diseases and Metal Ions highlights, supported by 130 illustrations, the recent progress made in understanding the role metal ions play in diseases like transmissible spongiform encephalopathies (Creutzfeldt-Jakob and related diseases), Alzheimer's, Parkinson's, Huntington's, Wilson's and Menkes' diseases, as well as in familial amyotrophic lateral sclerosis and others. The interplay between metal ions, catecholamines and the formation of reactive oxygen species resulting in oxidative stress is considered, as is the metalloneurochemistry of zinc and the neurotoxicity of aluminum, cadmium, lead, and mercury. The need for novel drugs which manipulate metal-centered neuropathology is emphasized.
HISTORICAL DEVELOPMENT AND PERSPECTIVES OF THE SERIES.
PREFACE TO VOLUME 1.
CONTRIBUTORS TO VOLUME 1.
TITLES OF VOLUMES 1–44 IN THE METAL IONS IN BIOLOGICAL SYSTEMS SERIES.
CONTENTS OF VOLUMES IN THE METAL IONS IN LIFE SCIENCES SERIES.
1 THE ROLE OF METAL IONS IN NEUROLOGY. AN INTRODUCTION (Dorothea Strozyk and Ashley I. Bush).
2 PROTEIN FOLDING, MISFOLDING, AND DISEASE (Jennifer C. Lee, Judy E. Kim, Ekaterina V. Pletneva, Jasmin Faraone-Mennella, Harry B. Gray, and Jay R. Winkler).
3 METAL ION BINDING PROPERTIES OF PROTEINS RELATED TO NEURODEGENERATION (Henryk Kozlowski, Marek Luczkowski, Daniela Valensin, and Gianni Valensin).
4 METALLIC PRIONS: MINING THE CORE OF TRANSMISSIBLE SPONGIFORM ENCEPHALOPATHIES (David R. Brown).
5 THE ROLE OF METAL IONS IN THE AMYLOID PRECURSOR PROTEIN AND IN ALZHEIMER'S DISEASE (Thomas A. Bayer and Gerd Multhaup).
6 THE ROLE OF IRON IN THE PATHOGENESIS OF PARKINSON'S DISEASE (Manfred Gerlach, Kay L. Double, Mario E. Götz, Moussa B. H. Youdim, and Peter Riederer).
7 IN VIVO ASSESSMENT OF IRON IN HUNTINGTON'S DISEASE AND OTHER AGE-RELATED NEURODEGENERATIVE BRAIN DISEASES (George Bartzokis, Po H. Lu, Todd A. Tishler, and Susan Perlman).
8 COPPER-ZINC SUPEROXIDE DISMUTASE AND FAMILIAL AMYOTROPHIC LATERAL SCLEROSIS (Lisa J. Whitson and P. John Hart).
9 THE MALFUNCTIONING OF COPPER TRANSPORT IN WILSON AND MENKES DISEASES (Bibudhendra Sarkar).
10 IRON AND ITS ROLE IN NEURODEGENERATIVE DISEASES (Roberta J. Ward and Robert R. Crichton).
11 THE CHEMICAL INTERPLAY BETWEEN CATECHOLAMINES AND METAL IONS IN NEUROLOGICAL DISEASES (Wolfgang Linert, Guy N. L. Jameson, Reginald F. Jameson, and Kurt A. Jellinger).
12 ZINC METALLONEUROCHEMISTRY: PHYSIOLOGY, PATHOLOGY, AND PROBES (Christopher J. Chang and Stephen J. Lippard).
13 THE ROLE OF ALUMINUM IN NEUROTOXIC AND NEURODEGENERATIVE PROCESSES (Tamás Kiss, Krisztina Gajda-Schrantz, and Paolo F. Zatta).
14 NEUROTOXICITY OF CADMIUM, LEAD, AND MERCURY (Hana R. Pohl, Henry G. Abadin, and John F. Risher).
15 NEURODEGENERATIVE DISEASES AND METAL IONS. A CONCLUDING OVERVIEW (Dorothea Strozyk and Ashley I. Bush).
SUBJECT INDEX.
""A timely contribution to the field of Biological Inorganic Chemistry … .It reveals the vital role played by metal ions in neurodegenerative diseases in general and exposes this rather unfamiliar and specialized area to a wide section of scientists."" (
Journal of the Indian Chemical Society
, February 2008)
""Recommended for most academic libraries and research collections which support research in coordination chemistry, biological inorganic chemistry, and the newer work in protein folding."" (E-STREAMS, September 2007)
""This is a worthwhile contribution that should have a broad audience."" (Doody's Health Services)
"…concepts are bang up-to-date by breaking research news appearing as reference notes." (Coordination Chemistry Reviews, Dec 2006)