Neurological Emergencies, 4th Edition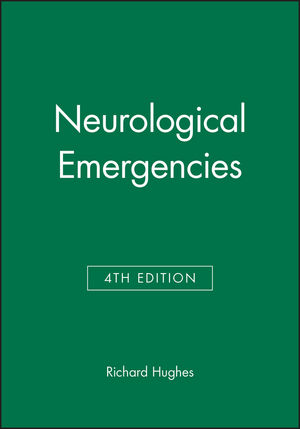 Neurological Emergencies, 4th Edition
ISBN: 978-0-727-91774-4 August 2003 BMJ Books 480 Pages
Description
The 4th edition of "Neurological emergencies" edited by Professor Richard Hughes presents an up to date guide to the pathogenesis and management of common emergencies in neurology (acute stroke, tonic-clonic status epilepticus), neurosurgery (traumatic brain injury, raised intracranial pressure, subarachnoid haemorrhage, acute spinal cord compression) and related specialties such as medicine (medical coma), intensive care (acute neuromuscular respiratory paralysis, brain stem death), infectious diseases (cerebral infection), ophthalmology (acute visual loss) and psychiatry (delirium, acute behaviour disturbance). The volume complements a small series of related titles from the same publishers on epidemiology, investigation and management of neurological disorders.





Each of the 13 chapters authored by experts in the respective fields is clearly and consistently structured, providing a detailed outline of pathogenesis as a rational basis for recommended investigations and management of specific conditions. Pathophysiological considerations are comprehensive and incorporate recent advances such as the increased understanding of the neurochemical basis of secondary brain injury and the association between specific apolipoprotein E genotypes and an increased risk of Alzheimer's disease following head trauma. Recommended diagnostic strategies are clearly outlined and advantages and limitations of specific investigations are discussed in the context of each clinical scenario. Numerous tables throughout the text (for example on investigation of stroke, delirium and neuromuscular disorders associated with respiratory paralysis) allow for easily accessible and concise reference.
Contributors.
Preface.
Medical coma.
Traumatic brain injury.
Acute stroke.
Delirium.
Acute behaviour disturbances and their management.
Tonic-clonic status epilepticus.
Raised intracranial pressure.
Management of subarachnoid haemorrhage.
Cerebral infection.
Acute spinal cord compression.
Acute neuromuscular respiratory paralysis.
Acute visual loss.
Criteria for diagnosing brainstem death.
Index
This is a highly informative textbook which will benefit every doctor dealing with neurological emergencies in neurology and related specialties, as an introduction for those in training and as an update for the more experienced reader.
Neuromuscular Disorders

"Should be read by those who decide initial management of neurologist emergencies." -- Postgraduate Medical Journal