Neurology: A Queen Square Textbook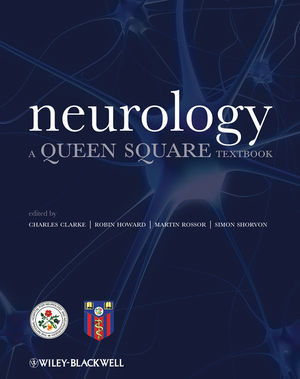 Neurology: A Queen Square Textbook
ISBN: 978-1-444-31170-9 April 2009 Wiley-Blackwell 1008 Pages
Description
Neurology: A Queen Square Textbook is a remarkable fusion of modern neuroscience with traditional neurology that will inform and intrigue trainee and experienced neurologists alike.

Modern neuroscience has penetrated exciting and diverse frontiers into the causes, diagnosis, and treatment of neurological disease. Clinical neurology, whilst greatly enhanced by dramatic advances in molecular biology, genetics, neurochemistry and physiology, remains deeply rooted in practical traditions: the history from the patient and the elicitation of physical signs.

Neurologists, neuroscientists and neurosurgeons working at Queen Square, and advised by an international editorial team, have combined their expertise and experience to produce this unique text. The synthesis of clinical neurology with translational research provides a fresh perspective which is
Practical

Multidisciplinary

Translational

Integrative
The blend of new science and proven practice underpins this creative approach towards investigating and improving the care of patients suffering from neurological diseases.
About Queen Square
The world-renowned National Hospital for Neurology & Neurosurgery and UCL Institute of Neurology, based in Queen Square, London, have an international reputation for training, research and patient care. Research at both institutions leads developments in translational medicine that are transforming the treatment of neurological disease.
1. Neurology Worldwide: the Burden of Neurological Disease.
2. Nervous System Structure and Function.
3. The Language of Neurology: Symptoms, Signs and Basic Investigations.
4. Stroke and Cerebrovascular Diseases.
5. Movement Disorders.
6. Epilepsy and Related Disorders.
7. Cognitive Impairment and Dementia.
8. Infection in the Nervous System.
9. Nerve and Muscle Disease.
10. Multiple Sclerosis and Demyelinating Diseases.
11. Headache.
12. Cranial Nerve Disorders.
13. Neuro-Ophthalmology.
14. Neuro-Otology.
15. Spinal Cord Disorders.
16. Cerebellar Ataxias and Related Conditions.
17. Restorative and Rehabilitation Neurology.
18. Toxic, Metabolic and Physical Insults to the Nervous System.
19. Disorders of Consciousness, Intensive Care Neurology and Sleep.
20. Neuro-Oncology.
21. Psychiatry and Neurology.
22. Pain.
23. Autonomic Dysfunction.
24. Uro-Neurology.
25. Systemic Conditions and Neurology.
"Having said that, this book is excellent . . . There is a very useful chapter on neuro-ophthalmology by Gordon Plant and colleagues . . . For the punting neurologist such as myself it is a useful addition to the bookshelf, for instant reference if the computer has crashed. Many of the chapters are highly readable." (Epilepsy & Behavior, 6 October 2010)
A practical and attractive text that takes the reader from a background of clinical medicine to the forefront of clinical neurological practice

Positioned between large encyclopaedic multi-volume textbooks and short student texts to focus on clinical practice

Led by editors at the National Hospital for Neurology and Neurosurgery at Queen Square and the Institute of Neurology, University College London, with a worldwide reputation for clinical teaching and research excellence Based on the internationally highly valued British Neurological training programme

Contains useful and informative information presented in an easy to read style