Neuromuscular Disorders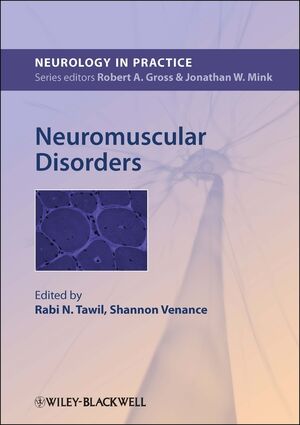 Neuromuscular Disorders
ISBN: 978-1-119-97331-7 September 2011 Wiley-Blackwell 280 Pages
Description
A practical framework for patients with problems that localize to the neuromuscular system
Our understanding of neuromuscular disease has advanced greatly in recent years. This has brought increased treatment options but also increased complexity. Diagnosis remains predominantly a clinical exercise. Early and accurate diagnosis coupled with modern medical management can increase the life quality and life expectancy of patients with neuromuscular disease.
Neuromuscular Disorders presents a practical framework for managing patients with neuromuscular dysfunction. It covers the spectrum of disease from the common to the rare with handy tips and tricks to improve clinical practice. Beginning with a guide to clinical diagnosis it includes:
Myopathies

Disorders of the neuromuscular junction

Disorders of peripheral nerve

Disorders of motor neurons
Clinical in approach, practical in execution, Neuromuscular Disorders will help you diagnose and manage your patients more effectively.
Table of contents
Contributor List
viii
Acknowledgment x
Series Foreword xi
Preface xii
1 Neuromuscular Diseases: Approach to Clinical Diagnosis 1
Shannon Venance and Rabi Tawil
part i myopathies
2 Approach to Diseases of Muscle 9
Matthew P. Wicklund
3 Inflammatory Myopathies 15
Steven A. Greenberg
4 Toxic Myopathies 22
Steven K. Baker
5 Metabolic Myopathies 30
Ingrid Tein
6 Mitochondrial Myopathies 42
Michio Hirano, Valentina Emmanuele, and Catarina M. Quinzii
7 Dystrophinopathies 51
Shannon L. Venance
8 Limb–Girdle Dystrophies 57
Michela Guglieri and Kate Bushby
9 Facioscapulohumeral Dystrophy 74
Constantine Farmakidis and Rabi Tawil
10 Myotonic Dystrophies 80
Nicholas Johnson and Chad R. Heatwole
11 Oculopharyngeal Muscular Dystrophy 87
Annie Dionne and Jean-Pierre Bouchard
12 Distal Myopathies 91
Bjarne Udd
13 Muscle Channelopathies 96
James Burge and Michael G. Hanna
14 Congenital Myopathies 103
Nigel Clarke and Kathryn North
part ii disorders of the neuromuscular junction
15 Approach to Diseases of the Neuromuscular Junction 113
Donald B. Sanders
16 Myasthenia Gravis 118
Michael K. Hehir and Emma Ciafaloni
17 Botulism 126
Nikhil Balakrishnan and Matthew N. Meriggioli
18 Lambert–Eaton Myasthenic Syndrome 134
Michael W. Nicolle
19 Congenital Myasthenic Syndromes 142
Andrew G. Engel
part iii disorders of peripheral nerve
20 Approach to Diagnosis of Peripheral Nerve Disease 153
James C. Cleland and Eric L. Logigian
21 Hereditary Motor Sensory Neuropathies (Charcot–Marie–Tooth Disease) 162
Araya Puwanant and David N. Herrmann
22 Diabetic Neuropathies 170
Douglas W. Zochodne
23 Toxic and Metabolic Neuropathies 177
Kurt Kimpinski
24 Acute Infl ammatory Demyelinating Neuropathies and Variants 183
Mazen M. Dimachkie and Richard J. Barohn
25 Chronic Immune-mediated Demyelinating Polyneuropathies 190
Agnes Jani-Acsadi and Richard A. Lewis
26 Vasculitic Neuropathies 198
W. David Arnold and John T. Kissel
27 Paraneoplastic Neuropathies 204
Pariwat Thaisetthawatkul
28 Brachial and Lumbosacral Plexopathies 210
Kristine M. Chapman and Amanda Sherwin
part iv disorders of motor neurons
29 Approach to Diseases of the Motor Neurons 223
Christen Shoesmith
30 Spinal Muscular Atrophy 229
Jacqueline Montes and Petra Kaufmann
31 Amyotrophic Lateral Sclerosis 236
Amy Chen and Hiroshi Mitsumoto
32 Neuromuscular Disorders in the Intensive Care Unit 243
Maxwell S. Damian and David Hilton-Jones
Index 249
The colour plate section can be found facing page 228.
Reviews
"This excellent book should be made available to students rotating through neurology, and should be owned by every neurology resident and most neurologists."  (Canadian Journal of Neurological Sciences, 1 September 2012)