Neurons and Networks in the Spinal Cord, Volume 1198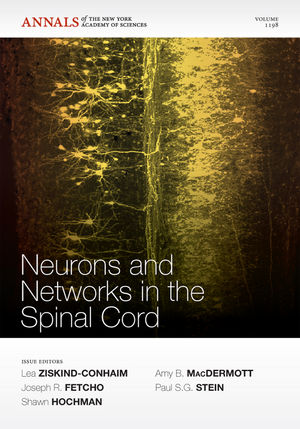 Neurons and Networks in the Spinal Cord, Volume 1198
ISBN: 978-1-573-31778-8
Jul 2010, Wiley-Blackwell
300 pages
Description
This volumes examines the mechanisms that underlie the generation of sensory and motor activity in the functional and dysfunctional spinal cord: a cutting-edge model system for both basic and translational neuroscience.



At the basic neuroscience level, the volume explores the functional organization of neuronal networks responsible for processing sensory inputs and generating motor outputs and the genes that control the assembly of these networks.  At the translational neuroscience level, articles describe approaches to understand and therapeutically modify spinal network responses to pain and injury.

Articles cover a wide range of topics from genetic, synaptic, and cellular mechanisms underlying network development and functions to plasticity and regeneration following spinal cord injury.

NOTE: Annals volumes are available for sale as individual books or as a journal. For information on institutional journal subscriptions, please visit www.blackwellpublishing.com/nyas.

ACADEMY MEMBERS: Please contact the New York Academy of Sciences directly to place your order (www.nyas.org). Members of the New York Academy of Science receive full-text access to the Annals online and discounts on print volumes. Please visit http://www.nyas.org/MemberCenter/Join.aspx for more information about becoming a member.
1. Updating neural representations of objects during walking (
Keir Pearson and Rod Gramlich
).
2. Afferent inputs to mid- and lower-lumbar spinal segments are necessary for stepping in spinal cats (Jonathan A. Norton and Vivian K. Mushahwar).
3. Afferent control of locomotor CPG: insights from a simple neuromechanical model (Sergey N. Markin, Alexander N. Klishko, Natalia A. Shevtsova, Michel A. Lemay, Boris I. Prilutsky and Ilya A. Rybak).
4.  Interactions between focused synaptic inputs and diffuse neuromodulation in the spinal cord (M.D. Johnson and C.J. Heckman).
5. Propriospinal transmission of the locomotor command signal in the neonatal rat (Kristine C. Cowley, Eugene Zaporozhets and Brian J. Schmidt).
6. Sensory-induced activation of pattern generators in the absence of supraspinal control (A. Lev-Tov, A. Etlin and D. Blivis).
7. Mechanisms of excitation of spinal networks by stimulation of the ventral roots (Michael J. O'Donovan, Agnes Bonnot, George Z. Mentis, Nikolai Chub, Avinash Pujala and Francisco J. Alvarez).
8. Synaptic integration of rhythmogenic neurons in the locomotor circuitry: the case of Hb9 interneurons (Lea Ziskind-Conhaim, George Z. Mentis, Eric P. Wiesner and David J. Titus).
9. Functional organization of V2a-related locomotor circuits in the rodent spinal cord (Kimberly J. Dougherty and Ole Kiehn).
10. Some principles of organization of spinal neurons underlying locomotion in zebrafish and their implications (Joseph R. Fetcho and David L. McLean).
11. Alternation of agonists and antagonists during turtle hindlimb motor rhythms (Paul S.G. Stein).
12. Multifunctional and specialized spinal interneurons for turtle limb movements (Ari Berkowitz).
13. Defining rhythmic locomotor burst patterns using a continuous wavelet transform (Benjamin W. Gallarda, Tatyana O. Sharpee, Samuel L. Pfaff and William A. Alaynick).
14. Presynaptic inhibition of primary afferents by depolarization: observations supporting nontraditional mechanisms (Shawn Hochman, Jacob Shreckengost, Hiroshi Kimura and Jorge Quevedo).
15. Synaptic pathways and inhibitory gates in the spinal cord dorsal horn (Tomonori Takazawa and Amy B. MacDermott).
16. Modulation of developing dorsal horn synapses by tissue injury (Mark L. Baccei).
17. Role of NKCC1 and KCC2 in the development of chronic neuropathic pain following spinal cord injury (Tera Hasbargen, Mostafa M. Ahmed, Gurwattan Miranpuri, Lin Li, Kristopher T. Kahle, Daniel Resnick and Dandan Sun).
18. Bone cancer pain (Juan Miguel Jimenez-Andrade, William G. Mantyh, Aaron P. Bloom, Alice S. Ferng, Christopher P. Geffre and Patrick W. Mantyh).
19. Timing and mechanism of a window of spontaneous activity in embryonic mouse hindbrain development (Martha M. Bosma).
20. Human stem cells as a model of motoneuron development and diseases (Yan Liu and Su-Chun Zhang).
21. Developmental regulation of subtype-specific motor neuron excitability (Rosa L. Moreno and Angeles B. Ribera).
22. Serotonin controls the maturation of the GABA phenotype in the ventral spinal cord via 5-HT1B receptors (Anne-Emilie Allain, Louis Ségu, Pierre Meyrand and Pascal Branchereau).
23. Mechanisms regulating the specificity and strength of muscle afferent inputs in the spinal cord (George Z. Mentis, Francisco J. Alvarez, Neil A. Shneider, Valerie C. Siembab and Michael J. O'Donovan).
24. Permanent reorganization of Ia afferent synapses on motoneurons after peripheral nerve injuries (Francisco J. Alvarez, Katie L. Bullinger, Haley E. Titus, Paul Nardelli and Timothy C. Cope).
25. Deconstructing locomotor networks with experimental injury to define their membership (Andrea Nistri, Giuliano Taccola, Miranda Mladinic, Gayane Margaryan and Anujaianthi Kuzhandaivel).
26. Spinal plasticity following intermittent hypoxia: implications for spinal injury (Erica A. Dale-Nagle, Michael S. Hoffman, Peter M. MacFarlane, Irawan Satriotomo, Mary Rachael Lovett-Barr, Stéphane Vinit and Gordon S. Mitchell).
27. Protecting motor networks during perinatal ischemia: the case for delta-opioid receptors (Stephen M. Johnson and Sara M.F. Turner).
28. Immune response by microglia in the spinal cord (Julie K. Olson).
29. How spinalized rats can walk: biomechanics, cortex, and hindlimb muscle scaling—implications for rehabilitation (Simon F. Giszter, Greg Hockensmith, Arun Ramakrishnan and Ubong Ime Udoekwere).
"This is a good book on the topic, with no significant comparisons." (Doddy's, 9 September 2011)