Never Mind the Sizzle...Where's the Sausage?: Branding based on substance not spin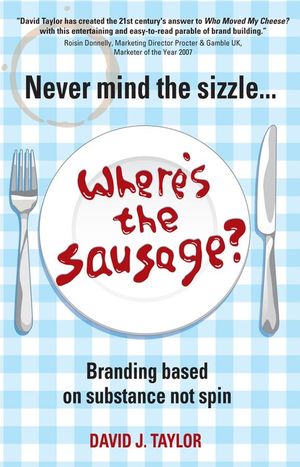 Never Mind the Sizzle...Where's the Sausage?: Branding based on substance not spin
ISBN: 978-1-841-12769-9 October 2007 Capstone 162 Pages
Description
Are you looking for a branding book that's a bit different? You've found it. Never Mind the Sizzle... is an irreverent story packed full of practical tips, tricks and tools that reveal how to cut through the bull and buzzwords of branding, get deep insight into your customers, create a big brand idea, get your boss on board, win the consumer's heart and mind and stand out from the crowd. Join the blog at wheresthesausage.com !
Introduction.
QUARTER ONE: Branding for business.
1. January – The buzzword battle begins.
2. February – Brand-led business.
3. March – Elastic brands.
QUARTER TWO: From insight to brand vision.
4. April – Be the consumer.
5. May – GPS for your brand.
6. June – Brand trampoline.
QUARTER THREE: Test-driving the vision.
7. July – Show them the money.
8. August – Consumer test drive.
9. September – Don't just think different, do different.
QUARTER FOUR: The rubber hits the road.
10. October – Rallying the troops.
11. November – Making money, not movies.
12. December – The sausage has landed.
Index.
"Taylor...passes on his wisdom in the style of a story…giving tips on creating a successful brand along the way." (
Artisan,
September 2007)
"A funny story cooked up inside a marketing book"  (Roe Valley Sentinel & Londonderry Sentinel, Wednesday 21st November 2007)