New Arrhythmia Technologies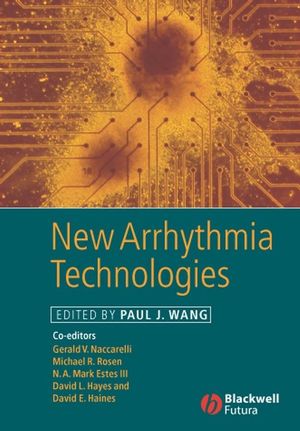 New Arrhythmia Technologies
ISBN: 978-0-470-98872-5 November 2007 Wiley-Blackwell 304 Pages
Description
New Arrhythmia Technologies provides a complete discussion of recent, emerging, and future arrhythmia technologies.


This forward-thinking book details successful trials and investigates areas of research that have not yet reached the trial phase.


The elite panel of authors have explored fresh information on:



advances in antiarrhythmic pharmacologis therapy

advances in monitoring, risk assessment, and noninvasive mapping

advances in pacing therapy

advances in implantable defibrillators

advances in catheter and surgical ablation

advances in antiarrhythmic biological therapy

vision for the future of arrhythmia technologies

web-based defibrillation monitoring.
New Arrhythmia Technologies presents a unique view of the latest in arrhythmia innovations through the eyes of the experts in the field.
List of Contributors.
Preface.
Section I Advances in Antiarrhythmic Pharmacologic Therapy.
Chapter 1 New Antiarrhythmic Pharmacologic Therapies and Regulatory Issues in Antiarrhythmic Drug Development.
Chapter 2 New Frontiers in Antithrombotic Therapy for Atrial Fibrillation.
.
Section II Future of Antiarrhythmic Therapy.
.
Chapter 3 Principles of Pharmacogenomics: Focus on Arrhythmias.
Chapter 4The Cardiac Sodium Channel Carboxy Terminus: Predicted and Detected Structure Provide a Novel Target for Antiarrhythmic Drug Development.
Chapter 5Embryonic stem cell-derived cardiomyocytes as a model for arrhythmia.
Chapter 6Gene and Cell Therapy for Sinus and AV Nodal Dysfunction.
Chapter 7Gene Therapy for Cardiac Tachyarrhythmias.
Section III Monitoring, Noninvasive Mapping, Risk Assessment, and External Defibrillation.
Chapter 8 New Developments in Noninvasive Rhythm Monitoring, Implantable Hemodynamic, Monitoring, Functional Status Monitoring ,and Non-Invasive Mapping.
Chapter 9Techniques of Prediction of Arrhythmia Occurrence and Stratification for Sudden Cardiac Death.
Chapter 10 Beta-blocker Efficacy in Long QT Syndrome Patients with Mutations in the Pore and Nonpore Regions of the hERG Potassium-channel Gene.
Chapter 11 New Developments in Out-of-Hospital Cardiac Defibrillation.
Section IV Advances in Pacing.
Chapter 12 Sensor and Sensor Algorithms.
Chapter 13New Electrode and Lead Designs for Pacemakers.
Chapter 14Current Concepts in Intravascular Pacemaker and Defibrillator Lead Extraction.
Chapter 15Left Ventricular Epicardial Lead Implantation: Anatomy, Techniques, and Tools.
Chapter 16New Resynchronization Lead Systems and Devices.
Chapter 17New Indications for Pacing.
Section V Advances in Implantable Defibrillators.
Chapter 18New Sensing and Discrimination Algorithms.
Chapter 19Arrhythmia Prevention and Termination Algorithms.
Chapter 20New Lead Designs and Lead-Less Systems.
Chapter 21Optimization of Defibrillation Function.
Chapter 22Remote Web-Based Device Monitoring.
Chapter 23New ICD Indications.
Section VI Advances in Catheter and Surgical Ablation.
Chapter 24Advances in Surgical Ablation Devices for Atrial Fibrillation.
Chapter 25Epicardial Access.
Chapter 26Advances in Catheter Control Devices.
Chapter 27Advances in Energy Sources in Catheter Ablation.
Chapter 28New Ablation Paradigms: Anatomic Ablation of Complex Arrhythmia Substrates.
Index
A comprehensive discussion of recent, emerging and future arrhythmia technologies


Contains cutting edge information and provides a vision of the future

Covers currently successful trials and areas that have not yet reached trial phase

The only book to gather this information into one place

First class team of editors and authors (Hayes, Ellenbogen, Rosen etc)