New Directions for Student Services, 1997-2014: Glancing Back, Looking Forward: New Directions for Student Services, Number 151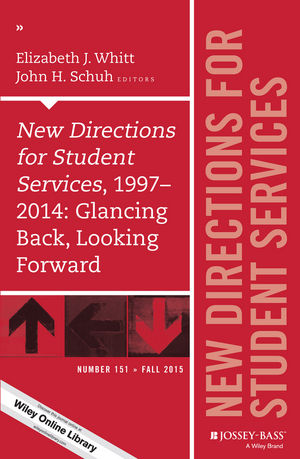 New Directions for Student Services, 1997-2014: Glancing Back, Looking Forward: New Directions for Student Services, Number 151
ISBN: 978-1-119-17025-9
Sep 2015
112 pages
Description
Student affairs has changed greatly in the almost twenty years that the series editors have been managing New Directions for Student Services. This volume provides a look back at this period of time from 1997 through 2014 with topical chapters focused on:
trends in student affairs during the past two decades,
changes in students and the most effective student affairs responses,
progress and recommendations for assessment in student affairs, and
challenges with and skills needed for digital technologies, finance and budgets, and staff preparation.
The volume concludes with a look into the future of student affairs practice based in part on the lessons learned from looking at the recent past.
This is the 151st volume of this Jossey-Bass higher education quarterly series. An indispensable resource for vice presidents of student affairs, deans of students, student counselors, and other student services professionals, New Directions for Student Services offers guidelines and programs for aiding students in their total development: emotional, social, physical, and intellectual.
EDITORS' NOTES 1
Elizabeth J. Whitt, John H. Schuh
1. Glancing Back at New Directions for Student Services, 1997–2014 3
Elizabeth J. Whitt, John H. Schuh
This chapter describes and discusses the topics covered in the New Directions for Student Services sourcebook series from 1997 through 2014 and provides a profile of the guest editors for the series.
2. Trends and Milestones Affecting Student Affairs Practice 15
Florence A. Hamrick, Krista Klein
Four principal evolutions that have affected student affairs practice are identified and discussed in this chapter.
3. Characterizations of Students and Effective Student Affairs Practice 27
Jillian Kinzie
Undergraduate students have changed over the past 20 years. This chapter traces the evolution of students, reviews effective student affairs responses, and considers practice moving forward.
4. Looking Back and Ahead: What We Must Learn From 30 Years of Student Affairs Assessment 39
Becki Elkins
This chapter reviews the history and current state of assessment in student affairs, questioning our progress and making recommendations for the future.
5. The Digital Age of Student Affairs 49
Edmund T. Cabellon, Reynol Junco
This chapter describes the student affairs profession in the digital age, including challenges of new and expanding technologies, how social networks and digital technology tools continue to evolve, and skills needed to engage with students.
6. Contemporary Challenges in Student Affairs Budgeting and Finance 63
Ann M. Gansemer-Topf, Peter D. Englin
This chapter traces the recent history of student affairs budgets and finance and offers suggestions for dealing with the financial challenges of the future.
7. Preparing Student Affairs Educators 79
Anna M. Ortiz, Ilinca Filimon, Monica Cole-Jackson
Changes in the preparation of student affairs educators are reviewed in this chapter.
8. Peering Into the Future 89
Elizabeth J. Whitt, John H. Schuh
The authors look at some of the challenges of making predictions and then offer some thoughts about student affairs practice in the foreseeable future.
INDEX 101