New Frontiers in European Industrial Relations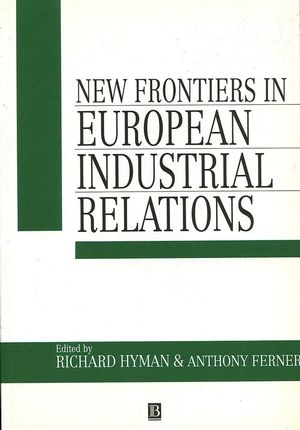 New Frontiers in European Industrial Relations
ISBN: 978-0-631-18606-9
Apr 1994, Wiley-Blackwell
432 pages
Description
Building on the highly successful Industrial Relations in the New Europe, this new text for students of industrial relations and human resource management examines some of the key comparative themes of European industrial relations in the 1990's. A team of internationally renowned contributors has drawn on a wealth of detailed, up-to-date material to analyse the major common trends across countries, and to account for the variety of national practice. Each chapter examines and compares different regional experiences to deal with such themes as:



mangement strategy


the role of unions


gender and the labour market


collective bargaining


change at the workplace


the state as employer


industrial conflict


the European Union dimension and 'Social Europe'



the transition to the market economy in Eastern Europe
The editors pay particular attention to developments in Eastern Europe as the former Easter bloc countries struggle to achieve the transition to market economies. The workplace, trade unions and the creation of national industrial relations institutions are examined specifically in this context.
List of Figures.
List of Tables.
Contributors.
Foreword.
Preface.
1. Introduction: Economic Restructuring, Market Liberalism and the Future of National Industrial Relations Systems: Richard Hyman (University of Warwick).
2. The Structure of Transnational Capital in Europe: The Emerging Euro-Company and its Implications for Industrial Relations: Paul Marginson (University of Warwick) Keith Sisson (University of Warwick).
3. The State as Employer: Anthony Ferner (University of Warwick).
4. European Trade Unions: The Transition Years: Jelle Visser (University of Amsterdam).
5. Changing Trade Union Identities and Strategies: Richard Hyman (University of Warwick).
6. Does Feminization Mean a Flexible Labour Force?: Jill Rubery (Manchester School of Management, UMIST) and Colette Fagan (Manchester School of Management, UMIST).
7. Industrial Order and the Transformation of Industrial Relations: Britain, Germany and France Compared: Christel Lane (St. Johns College, Cambridge).
8. Beyond Corporatism: The Impact of Company Strategy: Colin Crouch (Trinity College, Oxford).
9. Workplace Unionism: Redefining Structures and Objectives: Michael Terry (University of Warwick).
10. Strikes and Industrial Conflict: Peace In Europe?: P. K. Edwards (University of Warwick) and Richard Hyman (University of Warwick).
11. Industrial Relations and the Social Dimension of European Integration: Before and After Maastricht: Mark Hall (University of Warwick).
12. Tripartism in Eastern Europe: Lajos Hethy (Institute of Labour Research, Budapest).
13. The Changing Contours of Trade Unionism in Easter Europe and the CIS: Denis MacShane (International Metalworkers Federation, Geneva and European Policy Institute).
14. Post-Communism and the Emergence of Industrial Relations in the Workplace: Simon Clarke (University of Warwick) and Peter Fairbrother (University of Warwick).
Index.