New History of Anthropology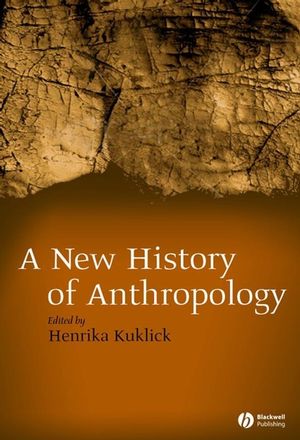 New History of Anthropology
ISBN: 978-0-631-22599-7
Sep 2007, Wiley-Blackwell
420 pages
Description
A New History of Anthropology collects original writings from pre-eminent scholars to create a sophisticated but accessible guide to the development of the field.




Re-examines the history of anthropology through the lens of the new globalized world

Provides a comprehensive history of the discipline, from its prehistory in the 'age of exploration' through to anthropology's current condition and its relationship with other disciplines

Places ideas and practices within the context of their time and place of origin

Looks at anthropology's role in colonization, early traditions in the field, and topical issues from various periods in the field's history, and examines its relationship to other disciplines
List of Illustrations.
Notes on Contributors.
Introduction: Henrika Kuklick (University of Pennsylvania).
1. Anthropology before Anthropology: Harry Liebersohn (University of Illinois, Urbana-Champaign).
Major Traditions.
2. North American Traditions in Anthropology: The Historiographic Baseline: Regna Darnell (University of Western Ontario).
3. The British Tradition: Henrika Kuklick (University of Pennsylvania).
4. Traditions in the German Language: H. Glenn Penny (University of Iowa).
5. The Metamorphosis of Ethnology in France, 1839–1930: Emmanuelle Sibeud (University of Paris VIII).
Early Obsessions.
6. The Spiritual Dimension: Ivan Strenski (University of California, Riverside).
7. The Empire in Empiricism: The Polemics of Color: Barbara Saunders (University of Leuven).
8. Anthropology and the Classics: Robert Ackerman (Clare Hall, University of Cambridge).
Neglected Pasts.
9. Anthropology on the Periphery: The Early Schools of Nordic Anthropology: Christer Lindberg (Lund University and Turku University).
10. Colonial Commerce and Anthropological Knowledge: Dutch Ethnographic Museums in the European Context: Donna C. Mehos (Eindhoven Technical University).
11. Political Fieldwork, Ethnographic Exile, and State Theory: Peasant Socialism and Anthropology in Late-Nineteenth-Century Russia: Nikolai Ssorin-Chaikov (University of Cambridge).
12. Using the Past to Serve the Peasant: Chinese Archaeology and the Making of a Historical Science: Hilary A. Smith (University of Pennsylvania).
Biology.
13. The Anthropology of Race Across the Darwinian Revolution: Thomas F. Glick (Boston University).
14. Race across the Physical-Cultural Divide in American Anthropology: Jonathan Marks (University of North Carolina, Charlotte).
15. Temporality as Artifact in Paleoanthropology: How New Ideas of Race, Brutality, Molecular Drift, and the Powers of Time Have Affected Conceptions of Human Origins: Robert N. Proctor (Stanford University).
New Directions and Perspectives.
16. Women in the Field in the Twentieth Century: Revolution, Involution, Devolution?: Lyn Schumaker (University of Manchester).
17. Visual Anthropology: Anna Grimshaw (Emory University).
18. Anthropological Regionalism: Rena Lederman (Princeton University).
19. Applied Anthropology: Merrill Singer (Yale University).
Works Cited.
Index
?
A New History
draws together an engaging and illuminating set of case studies that throw anthropology?s history into relief and will be of particular use as a teaching resource.? (
Anthropological Forum
, July 2009)
?What makes this collection excellent is not just the inventive range of topics but, above all, the sophistication and open-mindedness of the contributors.?
(Times Higher Education Supplement)

?This collection of original essays is new not just because it is newly published, but also because it is innovative. Without exception, these essays, contributed by historians and anthropologists, are theoretically sophisticated and historically informed. They constitute an historical sociology and politics of anthropological ideas and practices that illuminate current debates. Editor Kuklick has achieved a consistency and power not often found in varied collections. Essential.? (Choice)
"In this book one finds not only a helpful 'tool for both the teaching and learning pf the history of anthropology', but also learns about knowledge production as a tool for empowering a discipline not yet fully recovered from it entanglement with colonial power and exploitation, inter-disciplinary threats and intra-disciplinary struggles." (Critique of Anthropology, 2009)


Re-examines the history of anthropology through the lens of the new globalized world

Provides a comprehensive history of the discipline, from its prehistory in the 'age of exploration' through to anthropology's current condition and its relationship with other disciplines

Places ideas and practices within the context of their time and place of origin

Looks at anthropology's complex relationship to colonization, early traditions in the field, and topical issues from various periods in the field's history, and examines its relationship to other disciplines