New Media, New Policies: Media and Communications Strategy for the Future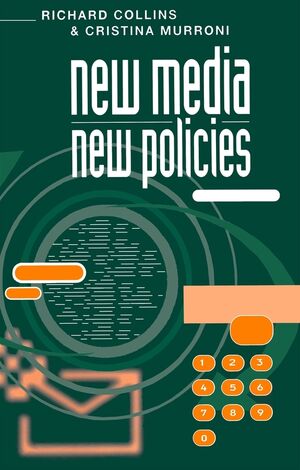 New Media, New Policies: Media and Communications Strategy for the Future
ISBN: 978-0-745-61785-5 December 1996 Polity 256 Pages
Description
We are in the middle of a communications revolution, expressed in a proliferation of media forms and media technologies. Are these changes a threat or a promise? Who is to control access to the media, old and new? What role should competition play in their further development? The United Kingdom is something of a global 'laboratory' for the deregulation and liberalization of media and communications. This is the first book to look systematically at the implications of the UK's experience and to provide clear guidelines for the future.

Richard Collins and Cristina Murroni question orthodox views of both Left and Right concerning media and communication policies. Unlike many in the Left, they acknowledge the achievements of liberalism and in fact advocate an expansion of competition in some contexts. In contrast to the Right they argue that media and communications are too important to society to be left solely to the market - not least because markets often fail. Regulation is needed for effective competition, to ensure affordable access to essential services and to protect citizens and consumers.

Collins's and Murroni's study was undertaken at the Institute for Public Policy Research - the UK's leading centre-left 'think tank'. Their findings are essential reading for policy-makers, students and professionals in the area of modern media and communications.
Table of contents
Preface.
Introduction.
1. Market Forces in Telecommunications.
2. Essential Facilities, Third Party Access and the Problems of Interconnection.
3. Concentration of Ownership.
4. Universal Service Obligation in Broadcasting and Telecommunications.
5. Freedom of Expression.
6. Audiovisual Policies: Too Much or Not Enough?.
7. Public Service Broadcasting: a Better BBC.
8. Convergence and Change: Reforming the Regulators.
Conclusions.
Appendix One.
Appendix Two.
Notes.
References.
Glossary.
Index.
Reviews
"The convergence of media technologies and industries is racing ahead of a maze of fragmented and increasingly obsolete policies rooted in the preconvegence era.
New Media, New Policies
lays down an integrated policy programme that challenges conventional thinking and provides an essential foundation for the forthcoming debates on policies for the UK information society."
Professor W Melody, Center for Tele Information, Technical University of Denmark
"A key book - and a key to new Labour thinking." James Curran, Goldsmiths' College
"Much of what they have to say about policy is thoughtful and to be welcomed ... Collins and Murroni seek to provide a coherent perspective and clear policy guidelines for the future. Whether you are "new" or "old" labour, this is an important book that deserves to be widely read." Tribune
"Their comprehensive and timely book is the first fruit of a major study of the media and telecommunications industries." The Times Higher Education Supplement
"The scope of the book is wide, dealing with press, broadcasting and other audiovisual media ... it is all clearly written and explained in a reasonable and no-nonsense style which will make it both useful and attractive to students of British media policy, who need a short and reliable introduction to a wide range of issues. It should also appeal to politicians of the centre left who want some ready-made answers to questions about media policy." European Journal of Communication
"The quality of its analysis of current UK communication policy issues ... is both cogent and clear ... A valuable contribution to the continuing debates on UK communication policy and a highly recommended text for teaching on these policy issues." LSE Magazine
"This book is not simply an academic text ... [it is] a resource for government ... Many statements in the book translate into policies recently enacted or, perhaps, are about to be so." Screen
Features
* The first systematic study of the consequences of new media technologies for questions of access and regulation.
* Criticises orthodox views of the Left and Right about media and communication policies.
* Develops a major new framework for policy makers with regard to the media in the UK and elsewhere.