New Media and Technology: New Directions for Youth Development, Number 128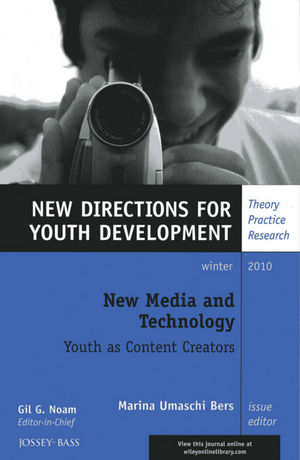 New Media and Technology: New Directions for Youth Development, Number 128
ISBN: 978-1-118-00959-8
Feb 2011, Jossey-Bass
136 pages
Description
New technologies are playing an important role in the lives of young people. From mobile phones to social media sites, from video games to virtual worlds, young people are immersed in a technologically rich environment, in a participatory culturue where they are not only consuming content, but also producing it and sharing it with others.

People learn better when givien opportunities to create their own projects. The growing fields of the learning sciences and educational technologies have long acknowledged this. Over the past four decades, new tools and approaches have been designed and evaluated to support children in creating and sharing their own computer-based projects.

The field of youth development has only recently started to examine how the creation of content might have an impact on children's development. Much of the early work has taken a media effects perspecive by looking at the impact of new technologies on children--as opposed to analyzing what children are doing with the technology. Also, too often youth experiences with technology have been framed in negative terms by highlighting the danger of of new technologies.

This issue of New Directions for Youth Development explores the many positive ways in which children and youth in both the United States and abroad, in urban and rural settings, are taking advantage of new technologies to create projects with their own content. In the process, they are embarking on personal and community journeys that engage them in many facet of positive development.

This is the 128th volume of New Directions for Youth Development, the Jossey-Bass quarterly report series dedicated to bringing together everyone concerned with helping young people, including scholars, practitioners, and people from different disciplines and professions. The result is a unique resource presenting thoughtful, multi-faceted approaches to helping our youth develop into responsible, stable, well-rounded citizens.
Issue Editor's Notes (
Marina Umaschi Bers
).
Executive Summary.
1. Beyond computer literacy: Supporting youth's positive development through technology (Marina Umaschi Bers)
New technologies in educational programs can support youth development and learning.
2. Educational technology, reimagined (Michael Eisenberg)
Innovative systems support creative learning in children's lives.
3. Children as codesigners of new technologies: Valuing the imagination to transform what is possible (Allison Druin)
The chapter explores a method for designing innovative technologies by children for children.
4. Content creation in virtual worlds to support adolescent identity development (Laura M. Beals)
Adolescents explore issues of identity by learning, playing, and growing in a virtual world.
5. Youth as content producers in a niche social network site (Christine Greenhow)
Hot Dish, an application within Facebook, promotes self-expression, social connections, and civic involvement.
6. YouTube as a participatory culture (Clement Chau)
Youth create content and social networks by sharing videos in a participatory media culture.
7. Making projects, making friends: Online community as catalyst for interactive media creation (Karen Brennan, Andrés Monroy-Hernández, Mitchel Resnick)
Scratch is an online community for young people to create interactive media.
8. Augmenting your own reality: Student authoring of sciencebased augmented reality games (Eric Klopfer, Josh Sheldon)
Students make their own games to understand science issues in their communities.
9. Developing technological initiatives for youth participation and local community engagement (Leo Burd)
New technologies to foster youth participation and civic engagement.
10. ""MXing it up"": How African adolescents may affect social change through mobile phone use (Christopher M. Napolitano)
Mobile phones are changing the forms of social communication for Africa's adolescents.
11. El Silencio: A rural community of learners and media creators (Claudia Urrea)
The author examines a one student–one laptop international project as a way to rethink learning in rural settings.
Index.