New Perspectives on Evolution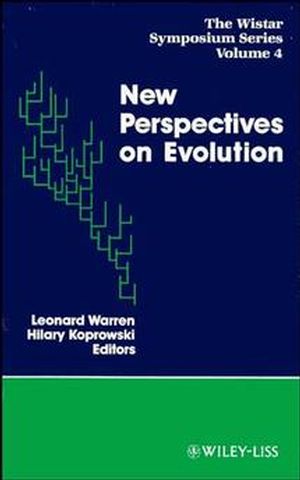 New Perspectives on Evolution
ISBN: 978-0-471-56068-5
Mar 1991
272 pages
Description
The Wistar Symposium Series, Volume 4 New Perspectives on Evolution Proceedings of a multidisciplinary symposium designed to interrelate recent discoveries and new insights in the field of evolution held at the University of Pennsylvania, April 18 and 19, 1990 Sponsored by The Wistar Institute, Philadelphia, Pennsylvania Edited by Leonard Warren and Hilary Koprowski During the past two-and-a-half decades, astonishing advances have been made in our knowledge and understanding of evolution. New Perspectives on Evolution reflects these developments in a broad-ranging work. Rather than selecting one or a few aspects of evolution for discussion, the book offers a panoramic view of the field. Within this comprehensive format, it spotlights the spectacular contributions of molecular biology, virology, immunology, and protein and nucleic acid chemistry. The book displays how progress in these fields has greatly advanced our understanding of the evolutionary process. New Perspectives on Evolution offers authoritative contributions from an illustrious group of experts. The book opens with an historical perspective of the field written by one of the great formulators of our present notions about evolution. Then, contributors explain how the giant strides made in molecular approaches to gene and DNA technology permit the study of interspecies relationships. The power of these approaches could never have been imagined by Darwin. With its inclusive view and insightful information on progress in evolutionary knowledge and theory, New Perspectives on Evolution will particularly interest and enlighten cellular, molecular, and developmental biologists, as well as geneticists, zoologists, sociologists, and ecologists. In general, this provocative work will interest all investigators in the biological sciences.
Partial table of contents:

EVOLUTIONARY PERSPECTIVES IN SOVIET RUSSIA.

Mechanistic and Dialectical Materialism in 20th Century Evolutionary Theory: The Work of Ivan I. Schmalhausen (G. Allen).

Current State of Evolutionary Theory in the USSR (N. Vorontsov).

INTERPLAY OF ORGANISMS AND ENVIRONMENT.

Environmental Context of Evolutionary Change: An Example from the End of the Proterozoic Eon (A. Knoll).

Parallelism and Convergence in the Horse Limb: The Internal-External Dichotomy (K. Thomson).

IMPACT OF RECENT ADVANCES IN MOLECULAR BIOLOGY, I. New Perspectives on the Molecular Evolution of Genes and Genomes (D. Hartl).

Gene Structure and Evolutionary Theory (W. Gilbert).

IMPACT OF RECENT ADVANCES IN MOLECULAR BIOLOGY, II.

The Phylogenetic Significance of Sequence Diversity and Length Variations in Eukaryotic Small Subunit Ribosomal RNA Coding Regions (M. Sogin).

Our Recent African Past: New Mitrochondrial Perspectives on Human Evolution (R. Cann).

Index.