New Product Success Stories: Lessons from Leading Innovators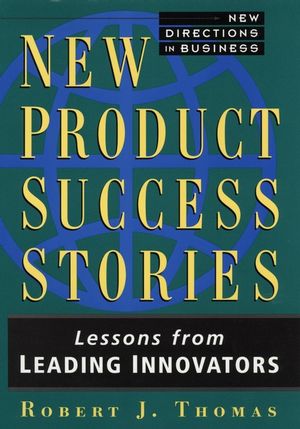 New Product Success Stories: Lessons from Leading Innovators
ISBN: 978-0-471-01320-4 December 1994 352 Pages
Download Product Flyer
Download Product Flyer
Download Product Flyer is to download PDF in new tab. This is a dummy description. Download Product Flyer is to download PDF in new tab. This is a dummy description. Download Product Flyer is to download PDF in new tab. This is a dummy description. Download Product Flyer is to download PDF in new tab. This is a dummy description.
Description
What are the secrets behind such spectacular new product successesas Slim-Fast, Cellular One, and Phillips CD? How did Snapple, MCIFriends and Family, MTV, and The Body Shop emerge from obscurity tobecome household names, seemingly overnight?

Find out in New Product Success Stories, a book that takes youbehind the scenes of 24 of the biggest new product success storiesof the past few years. From repeat purchase and durable productssuch as Lever 2000 and Ford Taurus, to major technologies such asCellular One, from services like Courtyard by Marriott, toretailers such as The Body Shop International, you're given aunique, firsthand look at how a wide range of innovative companiesemployed a variety of approaches to successfully developing andmarketing their new products.

New Product Success Stories was designed to help businesspeople toidentify and study the factors that have been shown to play acentral role in new product success. Consequently, the book isorganized according to such vital issues as:
* Aligning strategic opportunities
* Capitalizing on the business environment
* Pursuing market acceptance
* Motivating the organization
* Creating new product ideas
* Designing new products from concepts
* Refining the new product
* Tracking the new product

Each success story follows a similar format, offering a briefhistory of the product idea, a company profile, a blow-by-blowaccount of the development process, an explanation of the product'ssuccess in terms of factors both inside and outside theorganization, and future prospects for both product and thecompany.

Offering a unique opportunity to learn the secrets behind 24sensational new product success stories, New Product SuccessStories is an invaluable tool of survival in today's rapidlychanging business world.

"A refreshing and practical book that adds considerable insight tothe processes of new product development. Both practitioners andstudents of new product development will find considerable value inbenchmarking against these success stories." --Thomas S. RobertsonSainsbury Professor of Marketing London Business School

"New products are essential for organizations, but they are bothrisky and costly. The stories in this book record how 24 newproducts traversed the marketplace minefield successfully. Theyprovide insight and inspiration for those involved in the newproduct arena." -- Gary L. Lilien Director, Institute for the Studyof Business Markets Distinguished Research Professor of ManagementScience, Penn State

"Refreshing and illuminating . . . a compelling series of casestudies that shows how the success of a new product can be achievedthrough innovation and risk-taking. A book on new product successthat is a new product in its own right." -- John S. HendricksFounder, Chairman and Chief Executive Officer DiscoveryCommunications, Inc.

"This book makes an important contribution to the literature on newproduct success. It inspires as it instructs." --William W. AdamsFormer Chairman and President Armstrong World Industries,Inc.

"One of the most readable and insightful collections of new productcase studies I have ever read. New Product Success Storiesdemonstrates that business managers and new product professionalscan gain relevant insights from others' successes as well aslearning from others' mistakes." -- John D. Bowlin President andChief Operating Officer Miller Brewing Company
Table of contents
Learning from New Product Success.

Aligning Strategic Opportunities.

Capitalizing on the Business Environment.

Pursuing Market Acceptance.

Motivating the Organization.

Creating New Product Ideas.

Designing New Products from Concepts.

Refining the New Product.

Tracking the New Product.

Lessons from the New Product Success Stories.

Notes.

Index.