New Rules of Sociological Method: A Positive Critique of Interpretative Sociologies, 2nd Edition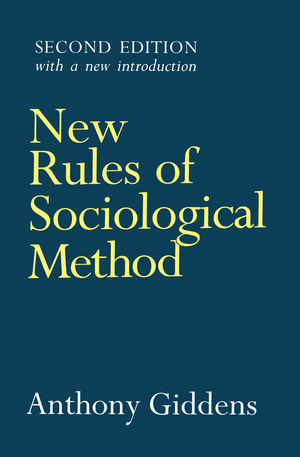 New Rules of Sociological Method: A Positive Critique of Interpretative Sociologies, 2nd Edition
ISBN: 978-0-745-66652-5
Jun 2013, Polity
196 pages
Description
This is a new and revised edition of a book which has already established itself as a basic text in social theory.


The first section of the work provides a concise critical analysis of some leading schools of thought in social philosophy, giving particular attention to phenomenology, ethnomethodology and Wittgensteinian thought. Giddens concentrates primarily upon the implications of these various perspectives for an account of human action and its intelligibility. An `action approach' on its own, however, will not do; in human social life, action and structure presuppose one another. The author therefore moves on to provide a series of concepts relevant to understanding the production and reproduction of society. The book concludes with a succinct statement of some `new rules of sociological method'.


Representing the first, and most trenchant, exposition of the principles of structuration theory, this edition also contains a substantial new Introduction in which Giddens replies to some of the more persistent criticisms made of the original version and also addresses some important issues originally discussed only in a cursory way.
Preface.
Introduction to the Second Edition.
Introduction to the First Edition.
1. Some Schools of Social Theory and Philosophy.
2. Agency, Act-identifications and Communicative Intent.
3. The Production and Reproduction of Social Life.
4. The Form of Explanatory Accounts.
Conclusion: Some New Rules of Sociological Method.
Notes.
Index.
'It is difficult to imagine social-scientific thought and practice in Britain and much of Continental Europe without the distinctive contribution of Anthony Giddens. His prolific work has the unique merit of tying together the rich tradition of modern social thought with the challenges of whatever is new and unprecedented in what he has called the 'late modern' or 'post-traditional' world.' Times Literary Supplement
* A new and revised edition of one of the key texts of contemporary social theory.
* Features a substantial new introduction by the author, taking up some of the critical points made by commentators on the first edition.
* Represents the most succinct and accessible statement of the core of structuration, the author's distinctive approach to methodological problems in the social sciences.