New Scholarship in Critical Quantitative Research, Part 2: New Populations, Approaches, and Challenges: New Directions for Institutional Research, Number 163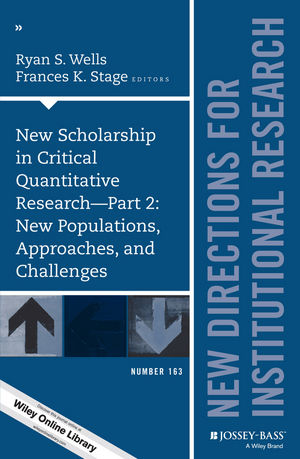 New Scholarship in Critical Quantitative Research, Part 2: New Populations, Approaches, and Challenges: New Directions for Institutional Research, Number 163
ISBN: 978-1-119-10210-6 April 2015 Jossey-Bass 128 Pages
Download Product Flyer
Download Product Flyer
Download Product Flyer is to download PDF in new tab. This is a dummy description. Download Product Flyer is to download PDF in new tab. This is a dummy description. Download Product Flyer is to download PDF in new tab. This is a dummy description. Download Product Flyer is to download PDF in new tab. This is a dummy description.
Description
This volume is the second in a two-part series on differentiating approaches to quantitative research
from more traditional positivistic and postpositivistic approaches. While the first volume provided an expanded conceptualization of critical quantitative inquiry, this volume concludes the series by:
applying critical quantitative approaches to new populations of college students who are rarely addressed in institutional and higher education research, such as American Indian, Alaska Native, and students with disabilities,
applying the principles of quantitative criticalism to advanced methods of statistical analysis, and
discussing the variety of challenges to overcome and presenting a future research agenda using these methods.
This work is of interest to institutional and higher education researchers who want to expand and critique new ways of thinking about the broad array of populations participating in and served by higher education, while keeping in mind the goals of revealing inequity, challenging marginalization, and helping all students to succeed.
This is the 163rd volume of this Jossey-Bass quarterly report series. Timely and comprehensive,
New Directions for Institutional Research
provides planners and administrators in all types of academic institutions with guidelines in such areas as resource coordination, information analysis, program evaluation, and institutional management.
Table of contents
EDITORS' NOTES 1
Ryan S. Wells, Frances K. Stage
Wells and Stage connect the work in this second volume to the first, summarize the critical quantitative approach, and set the stage for the chapters that follow.
1. Use of Large-Scale Data Sets to Study Educational Pathways of American Indian and Alaska Native Students 5
Susan C. Faircloth, Cynthia M. Alcantar, Frances K. Stage
This chapter discusses issues and challenges encountered in using large-scale data sets to study the educational experiences and subsequent outcomes for American Indian and Alaska Native students. It concludes with recommendations for constructing and analyzing largescale data sets to better represent the diversity of cultures and experiences among these populations.
2. Researching Students with Disabilities: The Importance of Critical Perspectives 25
Annemarie Vaccaro, Ezekiel W. Kimball, Ryan S. Wells, Benjamin J. Ostiguy
Students with disabilities are underrepresented in college and in the research done about college students. This chapter examines that exclusion and proposes ways to conduct research that more fully accounts for this diverse and important college population and leads to a greater understanding of their college access and success.
3. Using Big (and Critical) Data to Unmask Inequities in Community Colleges 43
Cecilia Rios-Aguilar
This chapter examines assumptions regarding the value and power of big data, especially as it relates to issues of equity in community colleges, and concludes with a discussion of the opportunities and challenges of using big data, critically, for institutional researchers.
4. Application of Person-Centered Approaches to Critical Quantitative Research: Exploring Inequities in College Financing Strategies 59
Lindsey Malcom-Piqueux
Person-centered approaches, as contrasted with more common variable-centered approaches, are presented as methods to explore questions related to equity for historically disadvantaged groups. The chapter concludes with a brief illustrative example of a critical, personcentered analysis of students' college financing strategies.
5. Critical Social Network Analysis in Community Colleges: Peer Effects and Credit Attainment 75
Manuel S. Gonz´ alez Canch´e, Cecilia Rios-Aguilar
This chapter uses existing institutional data to examine peer effects in community colleges via critical social network analysis. The chapter ends with a discussion of the implications of using that type of analysis to measure inequities in higher education.
6. What Is "Good" Research? Revealing the Paradigmatic Tensions in Quantitative Criticalist Work 93
Ebelia Hern´andez
This chapter draws examples of methodological issues from a study that employed critical race theory and quantitative criticalism. It reviews practical implications and methodological challenges in regard to the development of future quantitative criticalist studies.
7. Past, Present, and Future of Critical Quantitative Research in Higher Education 103
Ryan S. Wells, Frances K. Stage
Wells and Stage recap and respond to each chapter in the volume and conclude the two-volume series with a look toward the future use of quantitative criticalism by higher education scholars and institutional researchers.
INDEX 113