New Strategies in Chemical Synthesis and Catalysis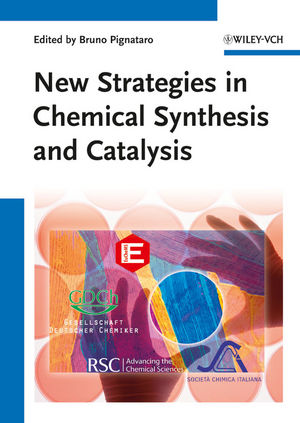 New Strategies in Chemical Synthesis and Catalysis
ISBN: 978-3-527-64582-4
Apr 2012
406 pages
Description
This volume represents one of the two edited by inviting a selection of young researchers participating to the European Young Chemist
Award 2010. The other volume concerns the area of Nanotechnology/Material Science and is titled: Molecules at Work.
This book contains the contributions of selected young chemists from the field of synthetic chemistry. The contributions are grouped
under the three following umbrella topics:

Synthetic Methods
Catalysis
Combinatorial and Chemical Biology

This volume is an indispensable read for all organic and inorganic chemists, biochemists, chemists working with/on organometallics,
and Ph.D. students in chemistry interested in seeing what tomorrow's chemistry will look like.
PREFACE

PART I: Synthetic Methods

ELECTROSPRAY AND CRYOSPRAY MASS SPECTROMETRY: FROM SERENDIPITY TO DESIGNED SYNTHESIS OF SUPRAMOLECULAR COORDINATION AND POLYOXOMETALATE CLUSTERS
Introduction
Background to ESI-MS
Application of High-Resolution ESI-MS and CSI-MS toPolyoxometalate Cluster Systems
Species Identification and Probing Structural Transformations in Multi-Metallic Systems
Future Challenges and Conclusions

EFFICIENT SYNTHESIS OF NATURAL PRODUCTS AIDED BY AUTOMATED SYNTHESIZERS AND MICROREACTORS
Efficient Synthesis of Natural Products Aided by Automated Synthesizers
Continuous-Flow Synthesis of Vitamin D3
Conclusions

CHEMOSELECTIVE REDUCTION OF AMIDES AND IMIDES
Introduction
Reduction of Tertiary Amides
Reduction of Secondary Amides
Dehydration of Primary Amides
Reduction of Imides
Conclusion

IONIC OZONIDES -
FROM SIMPLE INORGANIC SALTS TO SUPRAMOLECULAR BUILDING BLOCKS
The Forgotten Oxygen Anion
The Synthesis of Ionic Ozonides
The Structural Variety of Ionic Ozonides
Magnetic Properties
Conclusions and Perspectives

CHEMISTRY AND BIOLOGICAL PROPERTIES OF AMIDINOUREAS: STRATEGIES FOR THE
SYNTHESIS OF ORIGINAL BIOACTIVE HIT COMPOUNDS
Amidinoureas: an Introduction
Amidinoureas in Chemistry
Synthetic Strategies for the Preparation of Amidinoureas
Macrocyclic Amidinoureas
Perspectives

PART II: Catalysis

DNA CATALYSTS FOR SYNTHETIC APPLICATIONS IN BIOMOLECULAR CHEMISTRY
Introduction
In vitro Selection of Deoxyribozymes
Scope of DNA-Catalyzed Reactions
Synthetic Applications of RNA-Cleaving Deoxyribozymes
DNA-Catalyzed Linear Ligation of RNA
DNA-Catalyzed Synthesis of 2',5'-Branched Nucleic Acids
DNA-Catalyzed Synthesis of Nucleopeptide Conjugates
Mechanistic Aspects of DNA Catalysis
Conclusions and Outlook

IRON-CATALYZED CSP3 -
H OXIDATION WITH H2O2: CONVERTING A RADICAL
REACTION INTO A SELECTIVE AND EFFICIENT SYNTHETIC TOOL
Introduction and Scope
Environmentally Benign C -
H Oxidation
Inspiration from Nature
Mechanistic Considerations
Bioinspired C -
H Oxidation Catalysts
Perspectives

HYDROGEN BONDS AS AN ALTERNATIVE ACTIVATION
Introduction
Thiourea Catalysts
Conclusions

ELECTROSYNTHESIZED STRUCTURED CATALYSTS FOR H2 PRODUCTION
Introduction
Preparation of Structured Catalysts
Electrosynthesis
Electrosynthesis of Hydrotalcite-Type Compounds
Summary and Outlook

MICROKINETIC ANALYSIS OF COMPLEX CHEMICAL PROCESSES AT SURFACES
Introduction
Time and Length Scales in Heterogeneous Catalysis
Hierarchical Multiscale Approach for Microkinetic Model Development
Show Case: Microkinetic Analysis of CH4 Partial Oxidation on Rh

Conclusions

SYNTHETIC POTENTIAL BEHIND GOLD-CATALYZED REDOX PROCESSES
Introduction
Gold-Catalyzed Reactions Involving Oxygen Functionalities
Gold-Catalyzed Reactions Involving Nitrogen Functionalities
Gold-Catalyzed Reactions Involving C -
C Bond Formation
Gold-Catalyzed Reactions Involving Alkene Difunctionalization
Gold-Catalyzed Reactions Involving Halogen Functionalities
Summary and Outlook

TRANSITION-METAL COMPLEXES IN SUPPORTED LIQUID PHASE AND SUPERCRITICAL FLUIDS -
A BENEFICIAL COMBINATION FOR SELECTIVECONTINUOUS-FLOW CATALYSIS WITH INTEGRATED PRODUCT SEPARATION
Strategies for Catalyst Immobilization Using Permanent Separation Barriers
Supported Liquid-Phase Catalysts Based on Organic Solvents (SLP)
Supported Aqueous-Phase Catalysts (SAP)
Supported Ionic Liquid-Phase Catalysts (SILP)
Supported Liquid-Phase Catalysts and Supercritical Fluids
Conclusion

PART III: Combinatorial and Chemical Biology

INHIBITING PATHOGENIC PROTEIN AGGREGATION: COMBINATORIAL CHEMISTRY IN COMBATING ALPHA-1 ANTITRYPSIN DEFICIENCY
Introduction
a1-Antitrypsin Deficiency
Targeting the s4A Site with the Peptide Annealing Method
Expanding the Molecular Diversity
Characterization of the Combinatorially Selected Peptide
Conclusion and Outlook

SYNTHESIS AND APPLICATION OF MACROCYCLES USING DYNAMIC COMBINATORIAL CHEMISTRY
Supramolecular Chemistry
Dynamic Combinatorial Chemistry
Ion Transport across Membranes Mediated by a Dynamic Combinatorial Library

TOWARD TOMORROW'S DRUGS: THE SYNTHESIS OF COMPOUND LIBRARIES BY SOLID-PHASE CHEMISTRY
Introduction
Solid-Phase Synthesis of Selected Privileged Structures
Conclusions and Outlook