New Treatment Strategies for Dengue and Other Flaviviral Diseases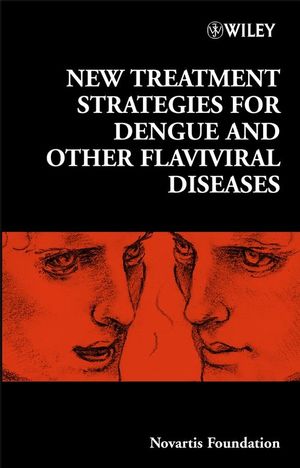 New Treatment Strategies for Dengue and Other Flaviviral Diseases
ISBN: 978-0-470-01643-5 October 2006 276 Pages
Description
Dengue virus is a member of the Flaviviridae family, which includes viruses associated with human diseases such as yellow fever, Japanese encephalitis and hepatitis C. Dengue fever is transmitted by mosquitoes, principally Aedes aegypti. There are four serotypes of dengue virus, of which DENV-2 has been the most prevalent in many recent epidemics. Following primary infection, lifelong immunity develops, preventing repeated assault by the same serotype. However, the non-neutralizing antibodies from a previous infection or maternally acquired antibodies are thought to form complexes with a different serotype during a subsequent infection and cause dengue haemorrhagic fever/dengue shock syndrome, which can be fatal. There is no treatment or vaccine available today that can combat this emerging and uncontrolled disease.

This book features contributions from the world's leading researchers working on dengue and related flaviviruses who examine the current state of the art in the molecular biology of the dengue virus. Particular emphasis is placed on the structure and function of the virus and the targeting of virus proteins by potential antiviral agents. The pathogenesis of dengue and dengue haemorrhagic fever are discussed in detail, especially the target cells and the specific receptors on these cells, thereby developing a clear overview of host and viral factors that contribute to dengue haemorrhagic fever. Finally, the book reviews the therapeutic options, paying particular attention to ways in which vector, host and environment can play a critical role in the spread of this disease.

With dengue fever and other emerging viral diseases becoming increasingly prevalent around the world, this book provides valuable insight into the virus that causes this disease and potential ways to manage it. It is essential reading for all those working in tropical diseases, public health and virology.

Praise from the reviews:

""The book provides an excellent summary of dengue/flavivirus research and is important for individuals and institutions interested in emerging infectious diseases."" MICROBIOLOGY TODAY
Buy Both and Save 25%!
Original Price:$495.00
Purchased together:$371.25
save $123.75
Cannot be combined with any other offers.
Chair's introduction (Charles Rice).
Dengue/dengue hemorrhagic fever: history and current status (Duane J. Gubler).
Discussion.
Molecular biology of flaviviruses (Eva Harris, Katherine L. Holden, Dianna Edgil, Charlotta Polacek and Karen Clyde).
Discussion.
Development of novel antivirals against flaviviruses (Chinmay G. Patkar and Richard J. Kuhn).
Discussion.
Entry functions and antigenic structure of flavivirus envelope proteins Karin Stiasny, Stefan Kiermayr and Franz X. Heinz).
Discussion.
General discussion I.
Multiple enzyme activities of flavivirus proteins (R. Padmanabhan, N. Mueller, E. Reichert, C. Yon, T. Teramoto, Y. Kono, R. Takhampunya, S. Ubol, N. Pattabiraman, B. Falgout, V. K. Ganesh and K. Murthy).
Discussion.
Towards the design of flavivirus helicase/NTPase inhibitors: crystallographic and mutagenesis studies of the dengue virus NS3 helicase catalytic domain (Ting Xu, Aruna Sampath, Alex Chao, Daying Wen, Max Nanao, Dahai Luo, Patrick Chene, Subhash G. Vasudevan and Julien Lescar).
Discussion.
Finding new medicines for flaviviral targets (Thomas H. Keller, Yen Liang Chen, John E. Knox, Siew Pheng Lim, Ngai Ling Ma, Sejal J. Patel, Aruna Sampath, Qing Yin Wang, Zheng Yin and Subhash G. Vasudevan).
Discussion.
Structural and functional analysis of dengue virus RNA (Diego Alvarez, Maria F. Lodeiro, Claudia Filomatori, Silvana Fucito, Juan Mondotte and Andrea Gamarnik).
Discussion.
Organization of flaviviral replicase proteins in virus induced membranes: a role for NS1' in Japanese encephalitis virus RNA synthesis (Vijaya Satchidanandam, Pradeep Devappa Uchil and Priti Kumar).
Discussion.
CRM1 dependent nuclear export of dengue virus type-2 NS5 (Melinda J. Pryor, Stephen M. Rawlinson, Peter J. Wright and David A. Jans).
Discussion.
T cell responses and dengue haemorrhagic fever (Gavin Screaton and Juthathip Mongkolsapaya).
Discussion.
The evolutionary biology of dengue virus (Edward C. Holmes).
Discussion.
Developing vaccines against flavivirus diseases: past success, present hopes and future challenges (John R. Stephenson).
Discussion.
A genomics approach to understanding host response during dengue infection (Martin L. Hibberd, Ling Ling, Thomas Tolfvenstam, Wayne Mitchell, Chris Wong, Vladimir A. Kuznetsov, Joshy George, Swee-Hoe Ong, Yijun Ruan, Chia L Wei, Feng Gu, Joshua Fink, Andy Yip, Wei Liu, Mark Schreiber and Subhash G. Vasudevan).
Discussion.
Mouse and hamsters models rodent models for the study of therapy against flavivirus infections (Nathalie Charlier, Pieter Leyssen, Erik De Clercq and Johan Neyts).
Discussion.
Secretion of flaviviral non-structural protein NS1: from diagnosis to pathogenesis (S. Alcon-LePoder, P. Sivard, M.-T. Drouet, A. Talarmin, C. Rice and M. Flamand).
Discussion.
Final discussion.
Index of contributors.
Subject index.
""…this reviewer was highly moved by the painstaking investigations and careful evaluation of results by the participants of this symposium."" (
Journal of Tropical Pediatrics
, February 2008)
""This is an excellent update of many aspects of dengue and the difficult quest for treatment and prevention. It is a valuable resource for new researchers coming to this fascinating field."" (Doody's Health Services)
""…painstaking investigations and careful evaluation…"" (Journal of Tropical Pediatrics, January 2007)
""...provides an excellent summary of dengue/flavivirus research and is important for individual and institutions interested in emerging infectious diseases.""  (Microbiology Today, November 2007)
""…this reviewer was highly moved by the painstaking investigations and careful evaluation of results by the participants of this symposium."" (Journal of Tropical Pediatrics, February 2008)