Nexus One For Dummies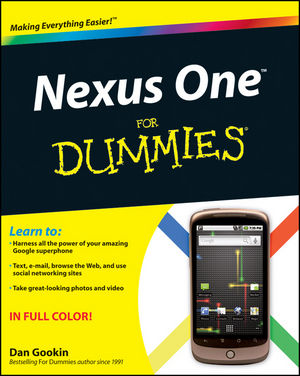 Nexus One For Dummies
ISBN: 978-0-470-91279-9
Aug 2010
336 pages
Description
Exploit the full power of the revolutionary Google Nexus One superphone
Nexus One is Google's answer to Apple's iPhone and RIM's BlackBerry. Covering a range of how-to topics, from the most useful Nexus One features and tricks of the core applications, to techniques to get the most out of the device, Nexus One For Dummies is the practical user's guide to the Google Nexus One smartphone.
Uses full-color to showcase all the features of the Nexus One, approaching each from the point of view of the user who is new to the technology or discouraged with the scant documentation and online support
Covers a broad range of topics, from setup and configuration, to texting, emailing, accessing the Internet, synching with a PC, using the camera, and expanding the phone's potential with new software
Written by the most popular For Dummies author, known throughout the world for his ability to make complex topics easy to understand with his fun and friendly writing style
Nexus One For Dummies empowers you to maximize the performance of Google's superphone. After all, what's the point of buying the world's latest, greatest smartphone and never understanding how the thing works?
Introduction.
Part I: Say Hello to Your New Phone.
Chapter 1: A Nexus One Just for You.
Chapter 2: Setup and Confi guration.
Chapter 3: The Nexus One Basic Tour.
Chapter 4: Human–Phone Interaction.
Part II: Your Basic Phone.
Chapter 5: The Telephone Thing.
Chapter 6: More Phone Stuff.
Chapter 7: Message for You!
Chapter 8: Friends, Enemies, Contacts.
Part III: Other Forms of Communication.
Chapter 9: When Your Thumbs Do the Talking.
Chapter 10: The Electronic Missive.
Chapter 11: Out on the Web.
Chapter 12: A Social Networking Butterfly.
Chapter 13: The Nexus One Connection.
Part IV: O What Your Phone Can Do!
Chapter 14: Fun with Maps and Navigation.
Chapter 15: Say ""Cheese"".
Chapter 16: A Digital Louvre.
Chapter 17: Your Pocket Is Alive with the Sound of Music.
Chapter 18: Various and Sundry Apps.
Chapter 19: More Apps from the Android Market.
Part V: Off the Hook.
Chapter 20: Out and About.
Chapter 21: Customize Your Phone.
Chapter 22: Maintenance and Troubleshooting.
Part VI: The Part of Tens.
Chapter 23: Ten Tips, Tricks, and Shortcuts.
Chapter 24: Ten Things to Remember.
Chapter 25: Ten Worthy Apps.
Index.