Nickel and Its Surprising Impact in Nature, Volume 2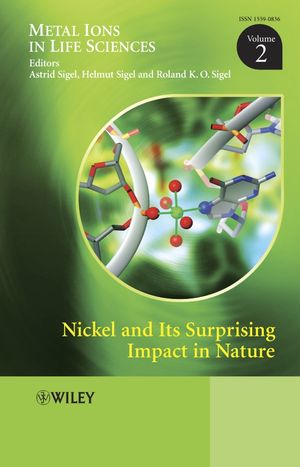 Nickel and Its Surprising Impact in Nature, Volume 2
ISBN: 978-0-470-02812-4 March 2007 728 Pages
Description
Helmut Sigel, Astrid Sigel and Roland K.O. Sigel, in close cooperation with John Wiley & Sons, launch a new Series "Metal Ions in Life Sciences". The philosophy of the Series is based on the one successfully applied to a previous series published by another publisher, but the move from "biological systems" to "life sciences" will open the aims and scope and allow for the publication of books touching on the interface between chemistry, biology, pharmacology, biochemistry and medicine.

Volume 2 focuses on the vibrant research area concerning nickel as well as its complexes and their role in Nature. With more than 2,800 references and over 130 illustrations, it is an essential resource for scientists working in the wide range from inorganic biochemistry all the way through to medicine.

In 17 stimulating chapters, written by 47 internationally recognized experts, Nickel and Its Surprising Impact in Nature highlights critically the biogeochemistry of nickel, its role in the environment, in plants and cyanobacteria, as well as for the gastric pathogen Helicobacter pylori, for gene expression and carcinogenensis. In addition, it covers the complex-forming properties of nickel with amino acids, peptides, phosphates, nucleotides, and nucleic acids. The volume also provides sophisticated insights in the recent progress made in understanding the role of nickel in enzymes such as ureases, hydrogenases, superoxide dismutases, acireductone dioxygenases, acetyl-coenzyme A synthases, carbon monoxide dehydrogenases, methyl-coenzyme M reductases...and it reveals the chaperones of nickel metabolism.
1
BIOGEOCHEMISTRY OF NICKEL AND ITS RELEASE INTO THE ENVIRONMENT
(
Tiina M. Nieminen, Liisa Ukonmaanaho, Nicole Rausch, and William Shotyk
).
2 NICKEL IN THE ENVIRONMENT AND ITS ROLE IN THE METABOLISM OF PLANTS AND CYANOBACTERIA (Hendrik Küpper and Peter M. H. Kroneck).
3 NICKEL ION COMPLEXES OF AMINO ACIDS AND PEPTIDES (Teresa Kowalik-Jankowska, Henryk Kozlowski, Etelka Farkas, and Imre Sóvágó).
4 COMPLEX FORMATION OF NICKEL(II) AND RELATED METAL IONS WITH SUGAR RESIDUES, NUCLEOBASES, PHOSPHATES, NUCLEOTIDES, AND NUCLEIC ACIDS (Roland K. O. Sigel and Helmut Sigel).
5 SYNTHETIC MODELS FOR THE ACTIVE SITES OF NICKEL-CONTAINING ENZYMES (Jarl Ivar van der Vlugt and Franc Meyer).
6 UREASE: RECENT INSIGHTS ON THE ROLE OF NICKEL (Stefano Ciurli).
7 NICKEL IRON HYDROGENASES (Wolfgang Lubitz, Maurice van Gastel, and Wolfgang Gärtner).
8 METHYL-COENZYME M REDUCTASE AND ITS NICKEL CORPHIN COENZYME F430 IN METHANOGENIC ARCHAEA (Bernhard Jaun and Rudolf K. Thauer).
9 ACETYL-COENZYME A SYNTHASES AND NICKEL-CONTAINING CARBON MONOXIDE DEHYDROGENASES (Paul A. Lindahl and David E. Graham).
10 NICKEL SUPEROXIDE DISMUTASE (Peter A. Bryngelson and Michael J. Maroney).
11 BIOCHEMISTRY OF THE NICKEL-DEPENDENT GLYOXALASE I ENZYMES (Nicole Sukdeo, Elisabeth Daub, and John F. Honek).
12 NICKEL IN ACIREDUCTONE DIOXYGENASE (Thomas C. Pochapsky, Tingting Ju, Marina Dang, Rachel Beaulieu, Gina M. Pagani, and Bo OuYang).
13 THE NICKEL-REGULATED PEPTIDYL PROLYL CIS/TRANS ISOMERASE SlyD (Frank Erdmann and Gunter Fischer).
14 CHAPERONES OF NICKEL METABOLISM (Soledad Quiroz, Jong K. Kim, Scott B. Mulrooney, and Robert P. Hausinger).
15 THE ROLE OF NICKEL IN ENVIRONMENTAL ADAPTATION OF THE GASTRIC PATHOGEN HELICOBACTER PYLORI (Florian D. Ernst, Arnoud H. M. van Vliet, Manfred Kist, Johannes G. Kusters, and Stefan Bereswill).
16 NICKEL-DEPENDENT GENE EXPRESSION (Konstantin Salnikow and Kazimierz S. Kasprzak).
17 NICKEL TOXICITY AND CARCINOGENESIS (Kazimierz S. Kasprzak and Konstantin Salnikow).
SUBJECT INDEX.
""All chapters of the book are authoritatively written by experts involved in the promotion of the field. The treatise is comprehensive, it presents latest information, the articles are well structured and easy to read and the text is fortified by numerous well-designed features.... A superb book which serves the novice, but even more the expert, in a this highly interdisciplinary field."" (
Coordination Chemistry
, January 2009)
""All chapters of the book are authoritatively written by experts involved in the promotion of the field. The treatise is comprehensive, it presents that latest information, the articles are well structured and easy to read and the text is fortified by numerous well-designed features ... .This is a superb book which serves the novice, but even more the expert, in a this highly interdisciplinary field."" (Coordination Chemistry, January 2009)
""The biological role of nickel isn't a traditional category of science. I can't think of any departments dedicated to nickel biochemistry. All the more interesting then, to use this metal to slice across the established classifications and think outside the box."" (Chemistry and Industry, December 2008)
""Recommended for most academic libraries and research collections which support research in biological inorganic chemistry, geochemistry, plant soil sciences, environment, toxicity, and carcinogenesis."" (E-Streams, September 2008)
""Those unfamiliar with the field can learn a good deal about what was once a biological curiosity."" (Doody's Health Services)
""I particularly liked this book; the editors have done a great job of consolidating the many and varied aspects...""  (Applied Organometallic Chemistry, November 2007)