Nikon COOLPIX Digital Field Guide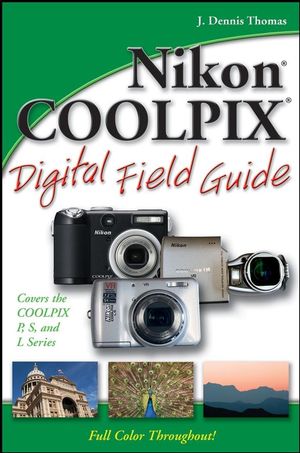 Nikon COOLPIX Digital Field Guide
ISBN: 978-1-118-07958-4
Aug 2011
217 pages
Product not available for purchase
Description
The Nikon COOLPIX Digital Field Guide is filled with everything you need to know in order to take amazing photographs using any Nikon COOLPIX camera. This full-color portable guide walks you through the essential controls, features, and functions of the Nikon COOLPIX point-and shoot camera line using step-by-step instructions and full-color images of each menu screen. This robust guide not only shows you how to adjust a variety of settings on your Nikon COOLPIX, it also teaches you when and why you should adjust them. The Nikon COOLPIX Digital Field Guide goes beyond camera settings to offer you a friendly guide to the principles of digital photography, covering the essentials of lighting and composition. Filled with amazing examples, this book also presents a variety of techniques for getting great photos, including specific tips and tricks for capturing portraits, candids, sports and action shots, travel pictures, macro photography, and much more.
Acknowledgments.
Introduction.
Quick Tour.
Part I: Using Your Nikon COOLPIX Camera.
Chapter 1: Exploring the COOLPIX Cameras.
Chapter 2: Navigating Your COOLPIX Camera.
Chapter 3: Getting the Most Out of Your Nikon COOLPIX Camera.
Part II: Creating Great Photos with Your Nikon COOLPIX Camera.
Chapter 4: Photography and Composition Basics.
Chapter 5: Accessories and Additional Equipment.
Chapter 6: Techniques for Great Photos.
Chapter 7: Downloading and Printing.
Part III: Appendixes.
Appendix A: Resources.
Glossary.
Index.