Nikon D40/D40x For Dummies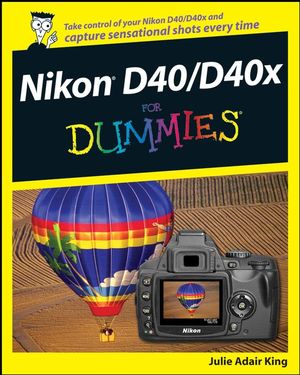 Nikon D40/D40x For Dummies
ISBN: 978-1-118-05230-3
Mar 2011
320 pages
Description
The Nikon D40 and the D40x offer exciting new features that will enable you to take amazing digital photos. These compact cameras pack a big punch at a great price! With Nikon D40/D40x For Dummies, you'll discover what each bell and whistle on your camera does so that you can confidently know when, where, why and how to put each feature to its best use.

This friendly full-color guide translates all of those techie words in your Nikon manual into plain English. You'll learn what terms like SLR, resolution, aperture, white balance, and file format really mean and how they effect picture quality. You'll also find out what happens when you press, jiggle, or twist all those serious-looking controls and how to use them to capture the great shots you imagined taking when you became a Nikon owner.   Discover how to:
Install batteries and memory card
Adjust viewfinder to your eyesight
Take great pictures automatically
Get creative with exposure and lighting
Manipulate focus and color
Control picture quality and size
Download, organize, and archive your photos
Print and share your photos
Use fast photo-retouching tricks
Packed with more than 200 beautiful color photos throughout, Nikon D40/D40x For Dummies is more than an easy-to-use handbook, it's the paperback version of an in-depth photography workshop tailored specifically to help you make the absolute most of your Nikon picture-taking powerhouse.
Introduction.
Part I: Fast Track to Super Snaps.
Chapter 1: Getting the Lay of the Land.
Chapter 2: Taking Great Pictures, Automatically.
Chapter 3: Controlling Picture Quality and Size.
Chapter 4: Reviewing Your Photos.
Part II: Taking Creative Control.
Chapter 5: Getting Creative with Exposure and Lighting.
Chapter 6: Manipulating Focus and Color.
Chapter 7: Putting It All Together.
Part III: Working with Picture Files.
Chapter 8: Downloading, Organizing, and Archiving Your Photos.
Chapter 9: Printing and Sharing Your Photos.
Part IV: The Part of Tens.
Chapter 10: Ten Fast Photo-Retouching Tricks.
Chapter 11: Ten Special-Purpose Features to Explore on a Rainy Day.
Appendix: Firmware Notes and Menu Map.
Index.