Nikon D80 Digital Field Guide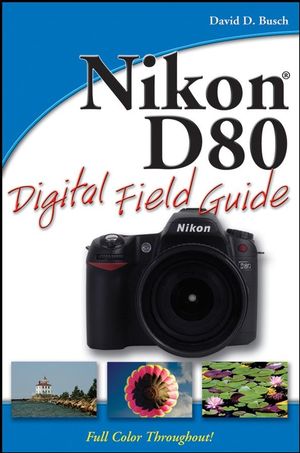 Nikon D80 Digital Field Guide
ISBN: 978-0-470-12051-4
May 2007
272 pages
Product not available for purchase
Description
Having trouble putting down your Nikon D80 long enough to read the manual? Slip this convenient, full-color guide into your camera bag instead. You'll find big, clear color photos to help you identify the camera's many controls, complete information on using each button and dial, and breathtaking examples of the results. Then discover step-by-step recipes for shooting terrific photos in more than 15 specific situations. This indispensable guide is like having a personal photographic assistant.
Test-drive your Nikon D80 with a Quick Tour.
Learn to efficiently operate all your camera's controls.
Review photographic basics like exposure, lighting, and composition.
Explore different types of lenses.
Discover the appropriate lens, ISO setting, aperture or mode, shutter speed, and lighting for a variety of subjects and situations.
Get expert tips on downloading and editing your photos.
Order today so you'll have this go-anywhere guide along wherever you go.
Acknowledgments.
Introduction.
Quick Tour.
Selecting a Shooting Mode.
Selecting a Focus Mode.
Checking the Range of Sharpness.
Using the Self-Timer and Remote Controls.
Reviewing Your Pictures.
Correcting Exposure.
Transferring Images to Your Computer.
Part I: Using the Nikon D80.
Chapter 1: Exploring the Nikon D80.
Chapter 2: Nikon D80 Essentials.
Chapter 3: Setting Up Your Nikon D80.
Part II: Creating Great Photos with the Nikon D80.
Chapter 4: Exposure Essentials.
Chapter 5: All About Lenses.
Chapter 6: Working with Light.
Chapter 7: Photo Subjects.
Chapter 8: Downloading and Editing Pictures.
Appendix A: Troubleshooting.
Glossary.
Index.