Nineteenth-Century American Women Writers: An Anthology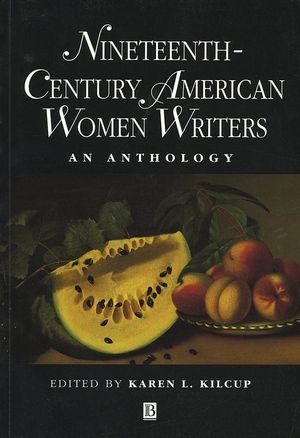 Nineteenth-Century American Women Writers: An Anthology
ISBN: 978-0-631-19986-1 February 1997 Wiley-Blackwell 656 Pages
Description
Nineteenth-Century American Women Writers: An Anthology is a multicultural, multigenre collection celebrating the quality and diversity of nineteenth century American women's expression.
Selected Contents by Genre.
Selected Contents by Theme.
Alphabetical List of Author.
Preface.
Acknowledgements.
Introduction.
Native American Myths.
Sampler Verses.
Mary Jemison (Degiwene's) (Seneca) (1743-1833).
"Old Elizabeth" (1766-18??).
Eliza Leslie (1787-1858).
Catheraine Maria Sedgwick (1789-1867).
Lydia Howard Huntley Sigourney (1791-1865).
Rebecca Cox Jackson (1795-1871).
Sojourner Thruth (c. 1797-1883)/Frances Dana Gage (1808-1884).
Caroline Kirkland (1801-1864).
Lydia Maria Child (1802-1880).
Betsey Chamberlain (dates Unkown) and The Lowell Offering Writers.
Lorenza Stevens Berbineau (c. 1806-1869).
Margaret Fuller (1810-1850).
Fanny Fern (sara Payton Willis Parton) (1811-1872).
Frances Sargent Osgoos (1811-1850).
Harriet Beecher Stowe (1811-1896).
Alice Cary (1820-1871).
Frances E. W. Harper (1825-1911).
Lucy Larcom (1824-1893).
Rose Terry Cooke (1827-1892).
Emily Dickinson (1830-1886).
Susan Gilbert Dickinson (1830-1913).
Helen Hunt Jackson (1830-1885).
Rebecca Harding Davis (1831-1910).
Mary Mapes Dodge (1831?-1905).
Louisa May Alcott (1832-1888).
Maria Amaparo Ruiz De Burton (1832-1895).
Harriet Prescott Spofford (1835-1921).
Celia Thaxter (1835-1894).
Sarah Morgan Bryan Piatt (1836-1919).
Marietta Holley ("Josiah Allen's Wife") (1836-1926).
Catherine Owen (Helen Alice Matthews Nitsch) (?-1899).
Constance Fenimore Woolson (1844-1911).
Sarah Winnemucca (Thocmetony) (Paiute) (c. 1844-1891).
Mary Jallock Foote (847-1938).
Sarah Barnwell Elliott (1848-1928).
Emma Lazarus (1849-1887).
Sarah Orne Jewett (1849-1909).
Kate Chopin (1851-1904).
Mary Wilkins Freeman (1852-1930).
Grace King (1852-1932).
Lizette Woodorth Reese (1856-1935).
Kate Dougls Wiggin (1856-1923).
Anna Julia Cooper (c. 1858-1930).
Laura Jacobson (Dates unknown).
Charlotte Perkins (Stetson) Gilman (1860-1935).
Louise Imogen Guiney (1861-1920).
E. Pauline Jonson (Tekhionwake) (Mohawk) (1861-1913).
Mary Weston Fordham (c. 1862-?).
Ida Baker Wells-Barnett (1863-1905).
Kate McPhelim Cleary (1863-1905).
Sui Sin Far (edith Maud Eaton) (1865-1914).
Mary Hunter Austin (1868-1934).
Sophia Alice Callahan (Creek) (1868-1894).
Martha Wolfenstein (1869-1905).
Alice Dunbar-Nelson (1875-1935).
Onoto Watanna (Winnifred Eaton) (1875-1954).
Zitkala-Sa (Gertrude Simmons Bonnin) (Sioux) (1876-1938).
Maria Cristina Mena (1893-1965).
Index.
"This anthology offers a fascinating selection of material which ought to enthuse the scholarly and general reader alike." S. M. Grant, University of Newcastle-upon-Tyne