Nitride Semiconductor Devices: Principles and Simulation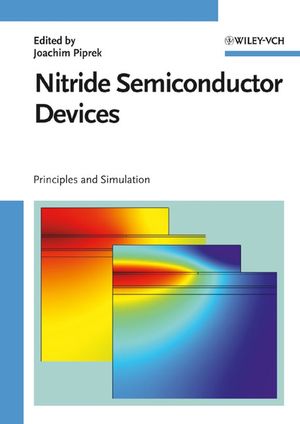 Nitride Semiconductor Devices: Principles and Simulation
ISBN: 978-3-527-40667-8
Apr 2007
519 pages
Description
This is the first book to be published on physical principles, mathematical models, and practical simulation of GaN-based devices. Gallium nitride and its related compounds enable the fabrication of highly efficient light-emitting diodes and lasers for a broad spectrum of wavelengths, ranging from red through yellow and green to blue and ultraviolet. Since the breakthrough demonstration of blue laser diodes by Shuji Nakamura in 1995, this field has experienced tremendous growth worldwide. Various applications can be seen in our everyday life, from green traffic lights to full-color outdoor displays to high-definition DVD players. In recent years, nitride device modeling and simulation has gained importance and advanced software tools are emerging. Similar developments occurred in the past with other semiconductors such as silicon, where computer simulation is now an integral part of device development and fabrication.
This book presents a review of modern device concepts and models, written by leading researchers in the field. It is intended for scientists and device engineers who are interested in employing computer simulation for nitride device design and analysis.

Buy Both and Save 25%!
Original Price:$864.00
Purchased together:$648.00
save $216.00
Cannot be combined with any other offers.
Part 1: MATERIALS
1. Introduction
2. Electron Bandstructure Parameters
3. Spontaneous and Piezoelectric Polarization: Basic Theory vs. Practical Recipes
4. Transport Parameters for Electrons and Holes
5. Optical Constants of Bulk Nitrides
6. Intersubband Absorption in AlGaN/GaN Quantum Wells
7. Interband Transitions in InGaN Quantum Wells
8. Electronic and Optical Properties of GaN-based Quantum Wells with (10-10) Crystal Orientation
9. Carrier Scattering in Quantum-Dot Systems

Part 2: DEVICES
10. AlGaN/GaN High Electron Mobility Transistors
11. Intersubband Optical Switches for Optical Communications
12. Intersubband Electroabsorption Modulator
13. Ultraviolet Light-Emitting Diodes
14. Visible Light-Emitting Diodes
15. Simulation of LEDs with Phosphorescent Media for the Generation of White Light
16. Fundamental Characteristics of Edge-Emitting Lasers
17. Resonant Internal Transverse-Mode Coupling in InGaN/GaN/AlGaN Lasers
18. Optical Properties of Edge-Emitting Lasers: Measurement and Simulation
19. Electronic Properties of InGaN/GaN Vertical-Cavity Lasers
20. Optical Design of Vertical-Cavity Lasers
21. GaN Nanowire Lasers