Nitride Semiconductors: Handbook on Materials and Devices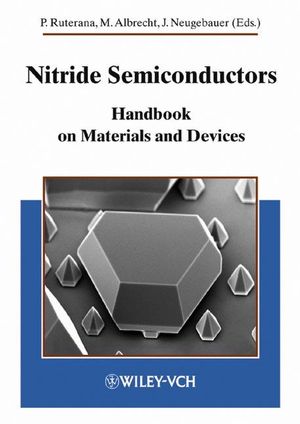 Nitride Semiconductors: Handbook on Materials and Devices
ISBN: 978-3-527-60764-8
Jun 2006
686 pages
Description
Semiconductor components based on silicon have been used in a wide range of applications for some time now. These elemental semiconductors are now well researched and technologically well developed. In the meantime the focus has switched to a new group of materials: ceramic semiconductors based on nitrides are currently the subject of research due to their optical and electronic characteristics. They open up new industrial possibilities in the field of photosensors, as light sources or as electronic components.
This collection of review articles provides a systematic and in-depth overview of the topic, on both a high and current level. It offers information on the physical basics as well as the latest results in a compact yet comprehensive manner. The contributions cover the physical processes involved in manufacture, from semiconductor growth, via their atomic structures and the related characteristics right up to future industrial applications. A highly pertinent book for anyone working in applied materials research or the semiconductor industry.
Preface.
List of Contributors.
PART 1: MATERIAL.
1. High-Pressure Crystallization of GaN (I. Grzegory, et al.).
2. Epitaxial Lateral Overgrowth of GaN (P. Gibart, et al.).
3. Plasma-Assisted Molecular Beam Epitaxy of III-V Nitrides (A. Georgakilas, et al.).
4. Growth of Gallium Nitride by Hydride Vapor Phase Epitaxy (A. Trassoudaine, et al.).
5. Growth and Properties of InN (V. Davydov, et al.).
6. Surface Structure and Adatom Kinetics of Group-III Nitrides (J. Neugebauer).
PART 2: DEFECTS AND INTERFACES.
7. Topological Analysis of Defects in Nitride Semiconductors (G. Dimitrakopulos, et al.).
8. Extended Defects in Wurtzite GaN Layers: Atomic Structure, Formation, and Interaction Mechanisms (P. Ruterana, et al.).
9. Stain, Chemical Composition, and Defects Analysis at Atomic Level in GaN-based Epitaxial Layers (S. Kret, et al.).
PART 3: PROCESSING AND DEVICES.
10. Ohmic Contacts to GaN (P. Hartlieb, et al.).
11. Electroluminescent Diodes and Laser Diodes (H. Amano).
12. GaN-Based Modulation-Doped FETs and Heterojunction Bipolar Transistors ( H. Morkoç & L. Liu).
13. GaN-Based UV Photodetectors (F. Omnes & E. Monroy).
Subject Index.
"What is different about this book from others on the same topic is that this handbook collects review articles and provides a systematic overview of the topic. It brings the latest insight into the fundamental issues with specific emphasis on growth, defect structure, and industrial applications." (E-Streams, Vol. 7, No. 5)