No More Kidney Stones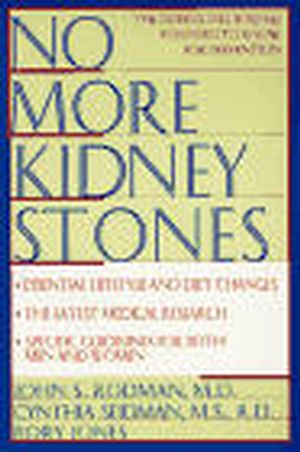 No More Kidney Stones
ISBN: 978-0-471-12587-7
Sep 1996
240 pages
Description
A Proven Plan To Stop Painful Kidney Stones Dr. John Rodman, an internationally renowned expert in the field of kidney stone disease, offers you a plan that can eliminate this painful disease from your life forever. With Dr. Rodman's proven plan, you'll discover all you need to know about:
* What risk factors cause the different types of kidney stones
* Which type of stone you are prone to forming and how to prevent it
* Which traditional holiday foods trigger stone formation
* What seasons of the year put you at higher risk
* How to modify your diet and stay stone-free
WHAT YOU NEED TO KNOW ABOUT KIDNEY STONES.

The Kidney Stone Boom.

The Urinary System.

How Your Kidneys Balance Your Body.

Not All Kidney Stones Are Created Equal.

How and Why Kidney Stones Form.

Why Kidney Stones Are So Painful.

How Much Water Do I Really Have to Drink?

Dietary Troublemakers.

Medical Conditions That Can Cause Kidney Stones.

Dieting Your Way to a Kidney Stone.

Men and Stones.

Women and Stones.

The Workup.

THE PLAN.

No More Kidney Stones.

Finding the Diet That is Right for You.

Lifestyles of the Kidney Stone Former.

Operation Oxalate.

Modifying Recipes and Controlling Portions.

Health Food Store Hazards.

Special Occasions: Parties and Other Excuses to Cheat.

Ethnic Cuisines.

Staying Motivated.

MEDICINES, SPECIALISTS, AND PROCEDURES.

TREATMENT.

Choosing a Specialist.

Medications.

Technology: Old and New.

Appendices.

Bibliography.

Glossary.

Bibliography.

Index.