No More Snoring: A Proven Program for Conquering Snoring and Sleep Apnea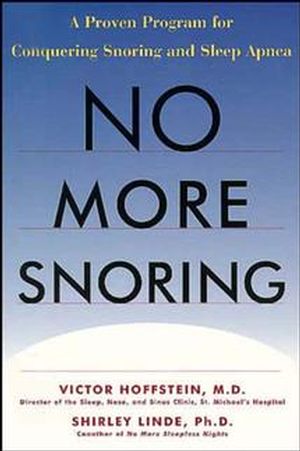 No More Snoring: A Proven Program for Conquering Snoring and Sleep Apnea
ISBN: 978-0-471-24375-5
Dec 1998
192 pages
Description
Expert help for the millions of Americans who suffer from chronic snoring.

Drowsiness, irritability, and congestion. Memory and concentration problems. Decreased alertness and productivity. Increased risk of high blood pressure, heart disease, migraines, and strokes.

The ravages of snoring are all too familiar, yet easy to prevent.

In No More Snoring, one of the world's leading snoring specialists provides you with a proven, step-by-step program to cure your snoring problem. This expert guide includes advice on:
* The most common risk factors and what to do about them
* The latest highly successful treatments developed at the renowned sleep disorders center at St. Michael's Hospital
* Simple lifestyle changes, home remedies and treatments--including the ""snore ball"" and the CPAP machine--to try before considering surgery
* The cost, benefits, risks, and suitability of various surgical options, including laser, UPPP, and new outpatient radiofrequency surgery.
Many Snore, Few Are Treated.

The Facts About Snoring and Sleep Apnea.

Testing Yourself at Home.

Snoring, Smoking, and Drinking.

Nutrition and Exercise.

Snoring and Medications.

Allergies and Snoring.

Snore Balls and Other Simple Solutions.

Serious Help from CPAP and Oral Appliances.

If You Go to a Sleep Lab.

Surgical Treatments.

Appendices.

Index.