No Neutral Ground: Standing By the Values We Prize in Higher Education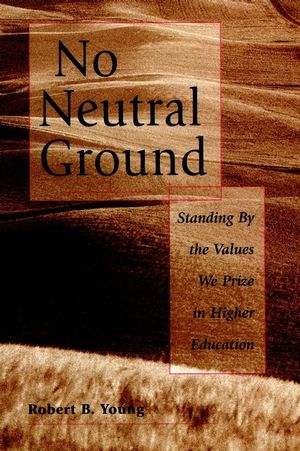 No Neutral Ground: Standing By the Values We Prize in Higher Education
ISBN: 978-0-787-90800-3
Feb 1997, Jossey-Bass
231 pages
Description
No Neutral Ground will provoke some and bring praise from others. Written with passion and a personal sense of mission, this book offers something to everyone who cares about institutional values and ethical standards.


?Richard T. Ingram, president, Association of Governing Boards of Universities and Colleges

A provocative book that explores seven timeless values of higher education?service, truth, freedom, equality, individuation, justice, and community?and shows how higher education administrators, faculty, and trustees can incorporate these values into their own practice and transmit them to students and the community at large.
1. Who Are We? Finding Our Identity in Values
Part One: Values We Prize
2. Service: The Value of Altruism
3. Truth: Not an End in Itself
4. Freedom: Choice with Responsibility
5. Equality: Ensuring a Fair Start for All
6. Individuation: Human Dignity Growing
7. Justice: Balancing Freedom with Duty
8. Community: Mutual Empowerment
9. How the Values Promote Scholarship and Democracy
Part Two: Challenges to Our Values
10. Capitalism: The Challenges of the Material
11. Spirituality: The Challenges of Ultimate Meaning
12. Aesthetics: The Challenges Linking of Emotion with Intellect
13. Relating the Values to Changing Times
Part Three: Advancing the Values We Prize
14. Building an Identity Based on Values
15. Using Values with Integrity
"Everyone interested in education will applaud Young for calling the academy to recognize the reasons for its existence.... This book is highly recommAnded, not only for those who work in the academy, but also for those who are eager that the academy stand by and exalt the values prized in higher education."

"No Neutral Ground will provoke some and bring praise from others. Written with passion and a personal sense of mission, this book offers something to everyone who cares about institutional values and ethical standards." --Richard T. Ingram, president, Association of Governing Boards of Universities and Colleges

"At a time when many critics of higher education lament the separation of competence and conscience in collegiate education, Young's treatment on the values mission of higher education, is a welcome addition to the literature, a reminder that what we know is always servant to what we believe." --E. Grady Bogue, professor, department of Educational Leadership at the University of Tennessee and author of Leadership by Design

"No Neutral Ground should be read by everyone who thinks that change begins with programs or personnel. In fact, real change begins with values, and Bob Young writes about the values of higher education with clarity and passion." --Terry O'Banion, executive director, League for Innovation in the Community College