No One Would Listen: A True Financial Thriller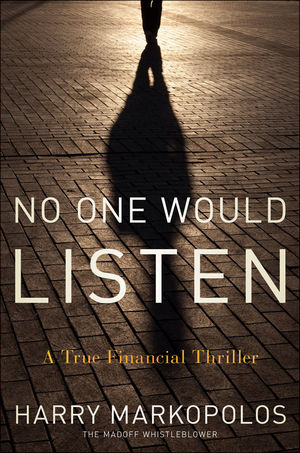 No One Would Listen: A True Financial Thriller
ISBN: 978-0-470-55373-2 March 2010 368 Pages
Description
Harry Markopolos and his team of financial sleuths discuss first-hand how they cracked the Madoff Ponzi scheme
No One Would Listen is the thrilling story of how the Harry Markopolos, a little-known number cruncher from a Boston equity derivatives firm, and his investigative team uncovered Bernie Madoff's scam years before it made headlines, and how they desperately tried to warn the government, the industry, and the financial press.
Page by page, Markopolos details his pursuit of the greatest financial criminal in history, and reveals the massive fraud, governmental incompetence, and criminal collusion that has changed thousands of lives forever-as well as the world's financial system.
The only book to tell the story of Madoff's scam and the SEC's failings by those who saw both first hand
Describes how Madoff was enabled by investors and fiduciaries alike
Discusses how the SEC missed the red flags raised by Markopolos
Despite repeated written and verbal warnings to the SEC by Harry Markopolos, Bernie Madoff was allowed to continue his operations. No One Would Listen paints a vivid portrait of Markopolos and his determined team of financial sleuths, and what impact Madoff's scam will have on financial markets and regulation for decades to come.
Foreword.
Who's Who.
Introduction.
Chapter 1: A Red Wagon in a Field of Snow.
Chapter 2: The Slot Machine That Kept Coming Up Cherries.
Chapter 3: Falling Down the Rabbit Hole.
Chapter 4: Finding More Peters (to Pay Paul).
Chapter 5: The Goddess of Justice Wears a Blindfold.
Chapter 6: Didn't Anyone Want a Pulitzer?
Chapter 7: More Red Flags Than the Soviet Union.
Chapter 8: Closing the Biggest Barn Door in Wall Street History.
Chapter 9: Soaring Like an Eagle Surrounded by Turkeys.
Epilogue: Mr. Pinkslip Goes to Washington.
Appendix A: Madoff Tops Charts; Skeptics Ask How.
Appendix B: The World's Largest Hedge Fund Is a Fraud.
Appendix C: Online Resource Guide for the Classroom and Beyond.
A Note on Sources.
About the Author.
Acknowledgments.
Index.
[
STARRED REVIEW
] Markopolos, the whistleblower who filed five unheeded complaints against Ponzi king Bernie Madoff over nine years, has produced an astonishing true-life whodunit set amidst the personalities, plots, and international intrigue of Wall Street. Having collected damning information on money manager Madoff-the respected co-founder of NASDAQ who ran the largest financial scam in history-since 1999, Markopolos's work as a chartered financial analyst and certified fraud examiner, aided by an industry journalist and two colleagues from his days as a derivatives portfolio manager, lays bare the Security and Exchange Commission (SEC) as a tragically inept regulating agency that "didn't give a rat's ass about protecting investors," and seemed to consider Madoff "just another guy cutting some corners." Realizing he had not one but two powerful opponents-"Madoff and this nonfunctioning agency"-Markopolos refused to give up, despite fearing for his life and his family; accordingly, he transmits his team's determination and fascination in contagious detail. The hows and whys of Madoff's eventual arrest, Markopolos's subsequent appearances before Congress, and the carnival of press coverage makes a satisfying conclusion to this strange epic; Markopolos also includes complete documentation of his formal submissions to the SEC, plus his recommendations for much-needed reform at the agency.
(Mar.)
(
PublishersWeekly.com
, March 29, 2010)
"…a salutary tale and the detailed regulatory lessons offered in the epilogue deserve attention." (Financial Times, March 2010)