No Regrets: A Ten-Step Program for Living in the Present and Leaving the Past Behind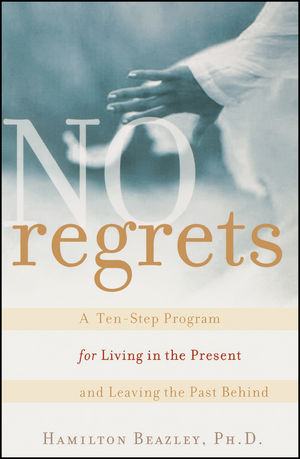 No Regrets: A Ten-Step Program for Living in the Present and Leaving the Past Behind
ISBN: 978-0-471-48179-9 January 2004 240 Pages
Description
At last, freedom from burdensome regrets

Everyone has regrets. But not everyone can overcome them, even when they interfere with the enjoyment of life. With this book as your guide, you'll learn how to let go of past mistakes, lost opportunities, and failed expectations to live richly in a present filled with hope and new possibilities.

This wise, compassionate, and practical guide offers profound insights into the nature of regrets and how to overcome them. Grounded in proven psychotherapeutic and spiritual principles, No Regrets brings together the insights of mental health professionals, spiritual teachers, and self-help experts.

In No Regrets, you'll find:
* A structured ten-step program for letting go of burdensome regrets
* Powerful spiritual and psychological tools for overcoming regret, including creative visualization, journaling, affirmations, thought analysis, meditation, and sharing with others
* Insights into toxic thought patterns that create and support regrets
* Persistent myths about forgiveness that keep us trapped in our regrets
* Inspiring stories of people who have freed themselves from regret


No Regrets will show you a way out of the pain, guilt, and shame of the past and how to create a rich and rewarding life in the present.

"Hamilton Beazley has the distinct ability to understand the most complex inner workings of the human spirit and mind. No Regrets is destined to take its place alongside the other great self-help guides of our time."
-Howard J. Shaffer, Ph.D., Associate Professor and Director
Division on Addictions, Harvard Medical School
Table of contents
Acknowledgments.
Introduction: Something Remarkable Is Possible.
PART I. PREPARATION FOR LETTING GO.
1. Understanding Regrets.
2. Ten Steps to Letting Go.
3. Using Spiritual and Psychological Tools.
PART II. THE TEN STEPS TO LETTING GO OF REGRETS.
4. Step One: Listing Regrets.
5. Step Two: Examining Regrets.
6. Step Three: Changing Toxic Thought Patterns.
7. Step Four: Grieving Losses.
8. Step Five: Making Amends.
9. Step Six: Identifying Lessons and Gifts.
10. Step Seven: Developing Compassion.
11. Step Eight: Forgiving Others.
12. Step Nine: Forgiving Ourselves.
13. Step Ten: Living Free of Regret.
Appendix A: Recommended Reading.
Appendix B: Summary of the Ten-Step Action Lists.
Appendix C: Quick Reference: Tools, Principles, and Toxic Thought Patterns.
Index.