Non-Linear Finite Element Analysis of Solids and Structures, Volume 2, Advanced Topics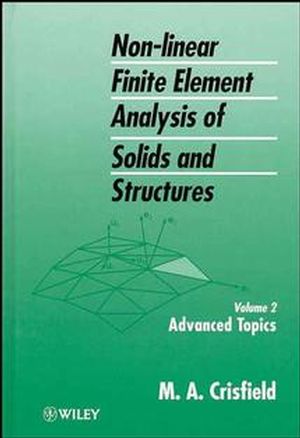 Non-Linear Finite Element Analysis of Solids and Structures, Volume 2, Advanced Topics
ISBN: 978-0-470-86021-2
Mar 1997
508 pages
Product not available for purchase
Description
Non-linear Finite Element Analysis of Solids and Structures Volume 2: Advanced Topics M. A. Crisfield Imperial College of Science, Technology and Medicine, London, UK In such fields as aeronautical, civil, mechanical and structural engineering, non-linear analysis techniques are becoming widely used for the solution of practical engineering problems. Taking an engineering rather than a mathematical bias, this comprehensive book builds on the fundamental ideas explained in Volume One, introducing the reader to more detailed, advanced topics. Large strains and large rotations, plasticity with a range of yield criteria and hardening rules, stability theory and advanced solution procedures including branch-switching techniques, contact and friction, and nonlinear dynamics, are covered in depth. Examples from a non-linear finite element computer program incorporating the advanced solution procedures are included. The computer program is available on the Internet via anonymous ftp, using the URL ftp://ftp.cc.ic.ac.uk/pub/depts/aero/nonlin2/.
More Continuum Mechanics.

Non-Orthogonal Coordinates and Co- and Contravariant Tensor Components.

More Finite Element Analysis of Continua.

Large Strains, Hyperelasticity and Rubber.

More Plasticity and Other Material Non-Linearity I. More Plasticity and Other Material Non-Linearity II.

Large Rotations.

Three-Dimensional Formulations for Beams and Rods.

More on Continuum and Shell Elements.

Large Strains and Plasticity.

Stability Theory.

Branch Switching and Further Advanced Solution Procedures.

Examples from an Updated Non-Linear Finite Element Computer Program Using Truss Elements.

Contact with Friction.

Non-Linear Dynamics.

Index.