Nondestructive Testing of Deep Foundations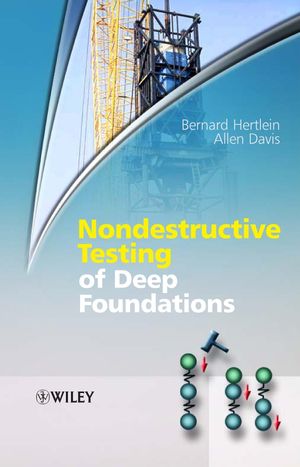 Nondestructive Testing of Deep Foundations
ISBN: 978-0-470-84850-0 August 2006 290 Pages
Description
Nondestructive Testing involves the use of methods such as wave propagation, electromagnetism, electrical conductivity, and thermal conductivity to test structural integrity and thereby allow nondestructive assessment of structures and the possibility of structural failures before they occur. 

Nondestructive Testing of Deep Foundations covers different techniques designed to provide information about the integrity and quality of the material that makes up a deep foundation.

Nondestructive Testing methods are used at all stages of a structure's life - from new construction quality control to residual lifetime prediction, and even during the monitoring of demolition. In addition, Nondestructive Testing is being increasingly specified in deep foundation projects, though often without a good understanding of its limitations and with the result that methods are often misused. In order to be able to specify an appropriate method, or to recognize an inappropriate specification, it is necessary for the engineer, specifier and/or contractor to understand the capabilities and limitations of each of the methods currently in use.

Nondestructive Testing of Deep Foundations:
Describes the most commonly used deep foundation construction techniques, including typical use of material
Provides a brief history of the development of commercially available nondestructive methods

Summarises each method's capabilities and limitations

Acts as a one stop reference drawing together resources only previously available in conference proceedings and journal papers
This manual will prove to be a welcome addition to the bookshelf of all practitioners in civil/structural and geotechnical engineering and architecture. It will also provide a valuable insight into this highly technical field for university researchers, lecturers and postgraduate students in civil/structural and geotechnical engineering.
FOREWORD.
PREFACE.
ABOUT THE AUTHORS.
ACKNOWLEDGEMENTS.
PHOTOGRAPHY AND ILLUSTRATION CREDITS.
1. INTRODUCTION AND A BRIEF HISTORY.
1.1Introduction.
1.2A Brief History of Deep Foundations and the Advent of NDT.
1.3Deep Foundation Failures and ND.
1.4 Deficiencies in Existing Foundations.
2. Deep Foundation Construction Methods.
2.1Driven Piles – Timber, Steel and Concrete.
2.2Caissons and Drilled Shafts.
2.3Diaphragm Walls, Cut-off Walls and Barrettes.
2.4Augured, Cast-in-place Pile.
2.5 Micropiles or Minipiles.
2.6Stone Columns and other Soil Improvement Techniques.
3. HOW SOILS AFFECT THE CHOICE OF FOUNDATION.
4. TRADITIONAL, VISUAL AND NEW INSPECTION METHODS  FOR DEEP FOUNDATION CONSTRUCTION.
1.1 Driven Piles.
4.2 Augured Cast-in-place Piles.
4.3Drilled Shafts.
4.4The Inspector's Role.
5. A REVIEW OF FULL-SCALE LOAD-TESTING TECHNIQUES.
5.1Static Load-test Techniques – Axial Compression.
5.2Static Load-test Techniques – Axial Tension.
5.3Static Load-test Techniques – Lateral.
6. HIGH-STRAIN TESTING FOR CAPACITY AND/OR INTEGRITY.
6.1High-strain Dynamic (Drop-weight) Testing of Driven Piles.
6.2High-strain Testing of Drilled Shafts and Augered,Cast-in-place Piles.
6.3Modification of Shaft Head for High-strain Tests.
6.4Practical Considerations for Drop-weight Techniques.
6.5HSDT Alternatives.
6.6Limitations of High-strain Dynamic Testing.
7. LOW-STRAIN SURFACE TESTS – SONIC ECHO.
7.1Sonic Echo (Impulse Echo).
8. SONIC MOBILITY (IMPULSE RESPONSE).
8.1Principles of Impulse–Response Curve Interpretation. 
8.2Practical Considerations.
8.3Classification of Signal Responses.
8.4Pile Simulation Techniques.
8.5Time Domain–Velocity Reflectors.
9. THE IMPEDANCE-LOG ANALYSIS.
10.LOW-STRAIN DOWN-HOLE TESTS.
10.1 Introduction.
10.2 Cross-Hole Sonic Logging.
10.3Cross-Hole Tomography. 
10.4 Single-Hole Sonic Logging.
10.5Gamma–Gamma Logging. 
10.6Parallel Seismic Testing.
11. FIELD MOCK-UPS OF DEEP FOUNDATIONS: CLASS-A PREDICTIONS.
12. THE RELIABILITY OF PILE SHAFT INTEGRITY TESTING.
12.1 Statistical NDT Sampling Schemes.
12.2 Methodology Reliability.
13. CURRENT RESEARCH.
13.1 Developments in Measurements and Analysis.
13.2Electrical Methods.
13.3Optical Techniques.
13.4Guided Wave Analysis.
13.5Statistical Analysis.
13.6Self-consolidating Concrete. 
13.7Acceptable Vibration Levels.
13.8Automated Monitoring Systems.
13.9Wireless Acquisition Systems. 
13.10Smart' Structures.
14. THE PLACE OF NONDESTRUCTIVE TESTING AT THE BEGINNING OF THE 21ST CENTURY.
14.1Nondestructive Testing and Load and Resistance Factor Design.
14.2Setting Up an Effective Quality Management Program. 
14.3Who's Testing the Tester?. 
14.4Acceptance Criteria.
14.5  Evaluating Defects.
APPENDIX I. STRESS-WAVE PROPAGATION IN CYLINDRICAL STRUCTURES.
Unknown Mechanical Impedance at its Base.
APPENDIX II. CONTACT ADDRESSES.
APPENDIX III. STANDARDS REFERRED TO IN THIS BOOK.
APPENDIX IV. SAMPLE SPECIFICATIONS FOR NDT METHODS FOR DEEP FOUNDATIONS.
REFERENCES.
INDEX.