Nondestructive Testing of Food Quality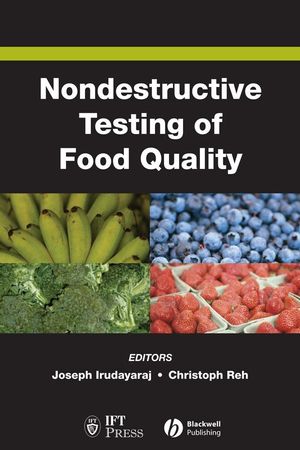 Nondestructive Testing of Food Quality
ISBN: 978-0-470-38828-0
Jun 2008, Wiley-Blackwell
384 pages
Description
The expert contributors to Nondestructive Testing of Food Quality clearly explain present industry advances and how to turn available instrumentation into valuable assets. Readers learn how the competencies of product knowledge, process understanding, instrumentation, principles of sensing, process control, and analytical methodology are required to turn an application into success. The broad-based coverage of topics addresses the most dominant sensor technologies keeping in mind the research initiatives advancing these technologies not only in food but also in the pharmaceutical sectors. Coverage includes: ultrasound, near infrared spectroscopy, mid-infrared spectroscopy, Raman spectroscopy, hyperspectral imaging systems, magnetic resonance imaging, electronic nose, z-nose, biosensors, microwave absorption, and nanoparticles and colloids as sensors.
1. An Overview of Sensor Technology in Practice: The User's View.
Christoph Reh.
2. The influence of Reference Methods on the Calibration of Indirect Methods.
Heinz D. Isengard.
3. Ultrasound: New Tools for Product Improvement.
Ibrahim Gulseren and John. N. Coupland.
4. Use of Near Infrared Spectroscopy in the Food Industry.
Andreas Niemoeller and Dagmar Behmer.
5. Application of Mid-infrared Spectroscopy to Food Processing Systems.
Colette C. Fagan and Colm P. O'Donnell.
6. Applications of Raman Spectroscopy for Food Quality Measurement.
Ramazan Kizil and Joseph Irudayaraj.
7. Particle Sizing in the Food and Beverage Industry.
Darrell Bancarz, Deborah Huck, Michael Kaszuba, David Pugh and Stephen Ward-Smith.
8. Online Image Analysis of Particulate Materials.
Peter Schirg.
9. Recent Advances in Nondestructive Testing with Nuclear Magnetic Resonanace.
Michael J. McCarthy and Young Jin Choi.
10. Electronic Nose Applications in the Food Industry.
Parameswarakuma Mallikarjunan.
11. Biosensors: A Theoretical Approach to Understanding Practical Systems.
Yegermal Atalay, Pieter Verbevon, Steven Vermir and Jeroen Lammertyn.
12. Techniques Based on the Measurement of Electrical Permittivity.
Malcolm Byars


Nondestructive testing assures premium quality and safety of foods


Turn available instrumentation into valuable assets


International collection of experts describes the latest advances in sensor technology and applications


Examples of industrial and research applications show the potential of the most dominant sensor technologies