Nonlinear Optics and Quantum Electronics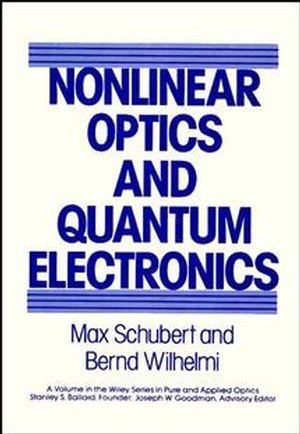 Nonlinear Optics and Quantum Electronics
ISBN: 978-0-471-08807-3
Jul 1986
752 pages
Description
This book is based on a course of lectures for advanced students. Part 1 is devoted to an introductory treatment of general concepts and methods to be used for describing nonlinear processes. Part 2 is concerned with the application of these concepts and methods to significant effects and processes, covering also the particular experimental arrangements, measuring methods, and empirical data connected with them.
Partial table of contents:

PART I: GENERAL CONCEPTS AND METHODS OF NONLINEAR OPTICS.

Electromagnetic Fields.

Classical Description.

The Quantized Free Radiation Field.

Interaction Between Radiation and Matter.

Semiclassical Description of Nonlinear Optics.

Statistical and Coherence Properties of the Radiation Field and Their Measurement.

Nonstationary Processes.

PART II: EFFECTS AND PROCESSES OF NONLINEAR OPTICS.

Nonlinear One-photon Processes in Lasers.

Nonlinearities in Transient One-photon Processes.

Nonlinearities and Qunatum Phenomena in Transient One-photon Processes.

Multiphoton Absorption and Emission.

Generation of Harmonics and Sum and Difference Frequencies.

Parametric Amplification and Oscillation.

Stimulated Raman Scattering.

Optical Bistability.

APPENDIX A: Compilation of Quantum-Theoretical Definitions and Relations.

General References.

Index.