Nonlinear Physics of DNA, 2nd Edition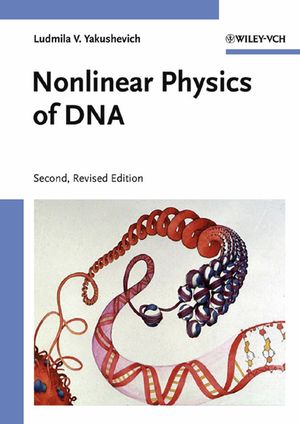 Nonlinear Physics of DNA, 2nd Edition
ISBN: 978-3-527-40417-9 July 2004 205 Pages
Description
The first edition of this book was the first on the physics of DNA to go beyond the simple (simplified) 'linear' approach, and it has since been found that the inclusion of nonlinear effects leads to a significantly improved interpretation of experimental data. This new edition naturally retains this approach, but has been completely revised, updated and expanded to cover recent developments.
Beginning with introductory chapters on DNA structure and dynamics, the book also includes a comparison between linear and nonlinear approaches to the DNA molecule, a chapter devoted to the statistics of nonlinear excitations of DNA, and examples for the interpretation of experimental data on the dynamics of DNA in terms of nonlinear theory.
Essential reading for researchers in biophysics and nonlinear physics, allowing biologists, chemists and physicists to continue developing new and improved techniques of investigating the DNA molecule.
Table of contents
CHAPTER 1 DNA STRUCTURE
1.1 Chemical composition and primary structure
1.2 Spatial geometry and secondary structure
1.3 Forces stabilizing secondary structure
1.4 Polymorphism
1.5 Tertiary structure
1.6 Approximate models of DNA structure
1.7 Experimental methods of studying DNA structure
CHAPTER 2 DNA DYNAMICS
2.1 General picture of the internal mobility
2.2 Twisting and bending motions
2.3 Dynamics of bases
2.4 Dynamics of sugar-phosphate backbone
2.5 Conformational transitions
2.6 Motions associated with local strand separation
2.7 Approximate models of DNA dynamics
2.8 Experimental methods of studying DNA dynamics
CHAPTER 3 DNA FUNCTIONING
3.1 Physical aspects of DNA functioning
3.2 Intercalation
3.3 DNA-protein recognition
3.4 Gene expression
3.5 Regulation of gene expression
3.6 Replication
CHAPTER 4 LINEAR THEORY OF DNA
4.1 The main mathematical models
4.2 Statistics of linear excitations
4.3 Scattering problem
4.4 Linear theory and experiment
CHAPTER 5 NONLINEAR THEORY OF DNA: IDEAL DYNAMICAL MODELS
5.1 Nonlinear mathematical modeling: general principles and restrictions
5.2 Nonlinear rod-like models
5.3 Nonlinear double rod-like models
5.4 Nonlinear models of higher levels
CHAPTER 6 NONLINEAR THEORY OF DNA: NON-IDEAL MODELS
6.1 Effects of environment
6.2 Effects of inhomogeneity