Nonprofit Boards: Roles, Responsibilities, and Performance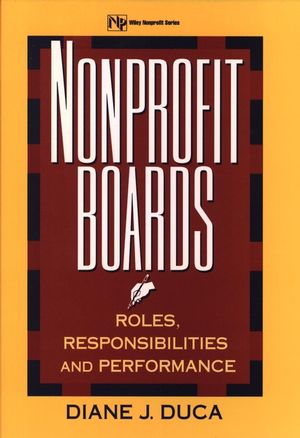 Nonprofit Boards: Roles, Responsibilities, and Performance
ISBN: 978-0-471-13020-8
Oct 1996
208 pages
Description
Any nonprofit that wants to survive beyond the nineties had better be governed by an effective, flexible board of directors. But what role should a nonprofit board play in fulfilling the organization's mission? How should the board carry out its responsibility to see that funds and other resources are used in the most efficient possible manner? How can the board perform its duties without alienating staff members? What pitfalls can divert a nonprofit board from addressing critical board functions?

Nonprofit Boards: Roles, Responsibilities, and Performance answers these questions and many more. This practical guide is dedicated to helping nonprofit board members, chairpersons, and executive directors develop and manage effective boards, empowered to respond to the special needs of their organizations. Diane J. Duca offers different ways to approach organizing and utilizing a board by presenting different board models. Using case studies and illustrations from real-life situations, she explores every aspect of board management, clarifies the roles of board members and executives, and discusses the board's legal and ethical obligations.

In her discussion of core responsibilities--strategic planning, policy setting, fiscal oversight, and fund-raising--Ms. Duca focuses on creating a spirit of cooperation between board and staff. Nonprofit boards that successfully fulfill their obligations and perform responsibly inspire staff members and set an example for everyone in the organization.

Regardless of your organization's managerial style or the structure of your board--passive or active, entrepreneurial or averse to risk--this invaluable guide will help board members and staff to develop mission-based policies, increase support, and improve communications between board and staff. Nonprofit board members who understand and accept their roles as trustees offer a vital service not only to their organization but also to society. Nonprofit Boards is designed to help them carry out this important duty.

"In my opinion, what was desperately needed from us 'volunteers' were resources, advocacy in the community, and hands-on help for a shoestring operation; instead, we acted like a judiciary body of advisors and critics."--Letter from a Former Board Member of a Nonprofit Organization

Too often, a nonprofit organization's efforts to fulfill its mission or use its resources efficiently are frustrated by an ineffectual, poorly defined, or adversarial relationship between the board and staff. Nonprofit Boards: Roles, Responsibilities, and Performance will help executives and board members avoid these conflicts with invaluable guidance and strategies for effective board management. Using case studies and real-life examples, it
* Clarifies the roles and functions of board members and executives
* Details board duties, including strategic planning and fiscal oversight
* Describes different organizational models for nonprofit boards and discusses their advantages and disadvantages
* Explains how structural diversity within the board can maximize its effectiveness and flexibility
* Discusses legal and ethical obligations and how the board can ensure that the nonprofit fulfills its mission
* Examines cooperative board-staff relations and how a board can be the catalyst for organizational change
* Includes numerous helpful charts and tables as well as in-depth appendices
* Presents contemporary issues facing nonprofits and their boards, including government relations, image-building, professionalism, and diversity
Buy Both and Save 25%!
Original Price:$112.00
Purchased together:$84.00
save $28.00
Cannot be combined with any other offers.
Models of Governance and Leadership.

Accountability: A Board's Fiduciary Obligations.

Structuring a Board for Maximum Effectiveness.

Organizing the Board's Work.

The Core Responsibilities of a Nonprofit Board.

Building a Cooperative Spirit.

Effective Board Meetings.

Maintaining Focus on Mission.

New Challenges for Nonprofit Boards.

Appendices.

Notes.

Index.
Using case studies and real-life examples, it
Clarifies the roles and functions of board members and executives
Details board duties, including strategic planning and fiscal oversight
Describes different organizational models for nonprofit boards and discusses their advantages and disadvantages
Explains how structural diversity within the board can maximize its effectiveness and flexibility
Discusses legal and ethical obligations and how the board can ensure that the nonprofit fulfills its mission
Examines cooperative board-staff relations and how a board can be the catalyst for organizational change
Includes numerous helpful charts and tables as well as in-depth appendices
Presents contemporary issues facing nonprofits and their boards, including government relations, image-building, professionalism, and diversity