Nonprofit Boards That Work: The End of One-Size-Fits-All Governance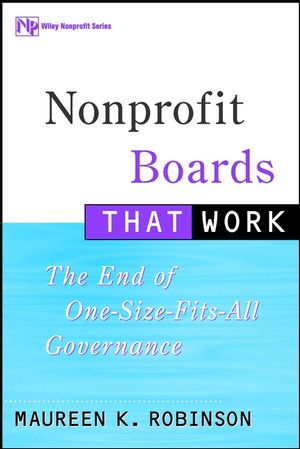 Nonprofit Boards That Work: The End of One-Size-Fits-All Governance
ISBN: 978-0-471-15119-7 June 2001 176 Pages
Download Product Flyer
Download Product Flyer
Download Product Flyer is to download PDF in new tab. This is a dummy description. Download Product Flyer is to download PDF in new tab. This is a dummy description. Download Product Flyer is to download PDF in new tab. This is a dummy description. Download Product Flyer is to download PDF in new tab. This is a dummy description.
Description
Praise for Nonprofit Boards That Work

"This book offers a refreshing and candid look at the challenges ofnonprofit boards. It moves away from theoretical frameworks to takeyou inside the real world of nonprofit organizations. . . . A mustfor any executive director who needs reassurance that buildingeffective boards is tough work, but well worth the effort."-SherryRockey, Executive Director, International Women's MediaFoundation

"Maureen Robinson is uniquely qualified to help us understand theissues related to boards that are effective, those that are not,and why. It is certain that board members, potential board members,and executive directors who read this book will better understandtheir roles and responsibilities, and will be better able to avoidcommon pitfalls. As a result, the impact of their efforts on thosewhom their organizations exist to serve will be enhanced."-RonBurkard, Executive Director, World Neighbors

As more than 10 million people in the United States alone say yesto board service, they also expect to see their time and talentsused effectively. This invaluable book presents a straightforwardapproach to understanding the role of the board, tailoring its workto meet the needs of specific organizations, and creating a cultureof board productivity that makes participation rewarding for boardmembers as well as the organizations they serve. Nonprofit BoardsThat Work:
* Distinguishes between theory and practice and encourages boardsto explore how they genuinely add value to the work of theorganization
* Goes beyond the hows and whys of nonprofit governance to providefrank advice and real-world examples of what works, what doesn't,what requires a miracle, and what can be achieved through diligentand deliberate effort
* Offers practical yet flexible strategies that can be tried by anynonprofit board, whatever its current effectiveness

. . . and much more to guide nonprofit organizations and theirboards toward accomplishing the goals they seek.
Table of contents
About the Author.

Acknowledgments.

Introduction.

Assigning Value: Do Boards Matter?

Why One Size Won't Fit All.

Defining the Role of the Board.

Boards That Work: The Structure of the Work.

Boards That Work: The Substance of the Work.

Building Productivity through Board Culture.

A Working Partnership: The Executive Director and the Board.

Saying Yes Twice: Engaging the Individual Board Member.

Fine-Tuning the Instrument.

Closing Thoughts.

Resources.

Index.
Reviews
"She offers shared wisdom and commonsense advice that providesuseful information about the basics of board work." (Nonprofit& Voluntary Sector Quarterly, May 2003)
Features
This book contains simple, straightforward explanations and guidance on nonprofit board management and related governance issues.
Growth in the number of new nonprofits (and their neophyte boards) makes nonprofit governance an increasingly important topic both in the U.S. and abroad.
Goes beyond the hows and whys to include lots of hands-on advice and real-world examples which nonprofit managers and boards can apply directly to their own organizations.