Nonprofit Boards and Leadership: Cases on Governance, Change, and Board-Staff Dynamics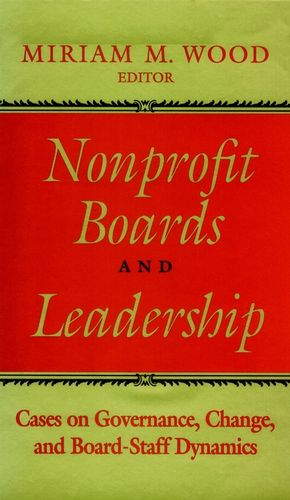 Nonprofit Boards and Leadership: Cases on Governance, Change, and Board-Staff Dynamics
ISBN: 978-0-787-90139-4 November 1995 Jossey-Bass 272 Pages
Description
Offers detailed case studies that demonstrate the crucial strategic issues facing nonprofit governing boards and offers board members new methods for dealing with them.
Introduction: Governance in Theory and Practice.

THE ROLE OF EXTERNAL STAKEHOLDERS IN GOVERNANCE.

1. The Public Interest and Tax Exemptions for Nonprofit Hospitals (Bradford H. Gray, et al.).

2. Planning in Interdependent Environments: The Local Association for Retarded Citizens (Melissa Middleton Stone).

3. The Grantmaker: Inner City Organizations Compete for Funds (Miriam M. Wood).

4. The United Way Allocations Committee: A Role-Playing Exercise (Melissa Middleton Stone & Lisa Silverman Pickard).

COMPLEXITIES IN THE BOARD-STAFF RELATIONSHIP.

5. The Evolving Board-Executive Relationship at a Women's Shelter (Carl Milofsky & Nancy Morrison).

6. Confliciting Managerial Cultures in a Museum (Peter Dobkin Hall).

7. The Governing Board Faces Rebellion in the Ranks (Candace Widmer).

8. Confronting Crisis: When Should the Board Step In? (Ram A. Cnaan).

9. Outgrowing the Governing Board: A Conundrum (Judith R. Saidel).

10. Using Community Networks to Diversify the Board (J. Allen Whitt & Gwen Moore).

INTERPRETING MISSION AND ACCOUNTABILITY.

11. Dissolution or Survival: The University of Bridgeport and the Unification Church (Glenn Scott Davis).

12. Social Conscience and the Governing Board of the California Medical Center (John C. Lammers & Christy L. Beaudin).

13. AIDS Project Los Angeles (Christy L. Beaudin, et al.).