Nonprofit Consulting Essentials: What Nonprofits and Consultants Need to Know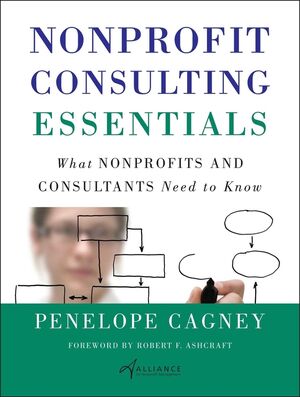 Nonprofit Consulting Essentials: What Nonprofits and Consultants Need to Know
ISBN: 978-0-470-87231-4 August 2010 Jossey-Bass 272 Pages
Description
Praise for Nonprofit Consulting Essentials
"The relationship between consulting and nonprofits has never been more important. Both theoretically sophisticated and practically useful, Cagney's research will be of great use to anyone interested in improving nonprofit institutions, deriving the greatest benefit from consultants, and understanding what really goes on inside large organizations."
—Christopher McKenna, MBA program director and reader in business history and strategy, Said Business School, University of Oxford; and fellow, Brasenose College, Oxford, United Kingdom
"Everyone seems to have a different idea of what it means to consult or be a consultant, especially in the charitable sector. Finally, we have a book, Nonprofit Consulting Essentials, that really delves into the assumptions and truths and the roles and responsibilities of consultants."
—Paulette V. Maehara, president and CEO, Association of Fundraising Professionals (AFP) International, Arlington, Virginia
"This really is an essential guide to nonprofit consulting and capacity building in the current climate of dramatic and discontinuous change. Whether you are just entering the sector or looking to refresh your skills, this book is a must-read."
—Brian Fraser, lead provocateur, Jazzthink, Vancouver, Canada
"This book will be an important resource for nonprofit professionals who wish to become consultants and for those consultants who want to improve their craft."
—Patrick M. Rooney, executive director, The Center on Philanthropy, Indiana University, Indianapolis, Indiana
"If you're a consultant in the nonprofit sector, or if you retain a consultant—if you're even thinking about hiring a consultant—read Nonprofit Consulting Essentials. There's a lot of practical value packed into the pages of this groundbreaking book."
—Mal Warwick, founder and chairman, Mal Warwick Associates, Berkeley, California; and author, How to Write Successful Fundraising Letters
"I have been in the YMCA movement for 35 years and have used consultants for technology to financial development to coaching and more, but I have never truly understood the role and benefits of using consultants for nonprofits until I read this book."
—Gregory O'Brien, president and CEO emeritus, Valley of the Sun YMCA, Phoenix, Arizona
Foreword.
Preface.
Acknowledgments.
About the Alliance for Nonprofi t Management.
Chapter 1: What Nonprofi ts Need from Consultants.
The Infl uence of For-Profi t Thinking in the Nonprofi t Sector.
Reasons for Dominance of For-Profit Thinking.
In Defense of Nonprofi t Organizational Strengths.
How Nonprofits Are Different.
Ten Important Distinctions Between Nonprofi ts and For-Profits.
Chapter 2: The Importance of Process in Nonprofi t Consulting.
The Value of Process.
Using Process Consulting.
The Importance of Process in Complex Organizational Change: Tales of Two Mergers.
Chapter 3: The Stages of the Consulting Process.
Stage One: Engagement.
Stage Two: Getting Down to Business.
Stage Three: Implementation.
Chapter 4: Fundraising and Marketing.
Fundraising.
Marketing.
Emerging Issues and Trends Affecting Fundraising and Marketing.
Chapter 5: Governance Consulting.
Models of Board Leadership.
Areas Where Consultants Can Help Boards Improve Performance.
Emerging Issues and Trends Affecting Governance.
Chapter 6: Management and Organizational Development Consulting.
Traditional Management Consulting.
Organizational Development Consulting.
Models of Management Consulting to Nonprofits: Nonprofi t Consulting in For-Profit Firms.
Management Consulting Needs of Nonprofits.
Chapter 7: International Consulting.
What Is Fueling the Growth of International Nonprofits?
The International Consulting Landscape.
The Special Consulting Challenges of International Nonprofits and INGOs.
Special Qualities and Skills of International Consultants.
Chapter 8: What Works: Building a Strong Relationship Between Consultant and Nonprofit.
Making a Match That Works.
Maintaining a Relationship That Works.
Chapter 9: What's Next: A Look at the Future of Nonprofi ts and Consulting.
Trends Affecting Nonprofit Consulting.
How the Consulting World Is Changing.
Educating the Nonprofi t Consultants of the Future.
Resource A: Development of Nonprofi t Consulting in the United States.
Resource B: Advice for Consulting Firms.
Resource C: Ethics, Standards, and Consultant Certifi cation.
Resource D: Finding Consultants.
Resource E: Further Reading.
The Author.
Notes.
Index.