Nonprofit Essentials: Recruiting and Training Fundraising Volunteers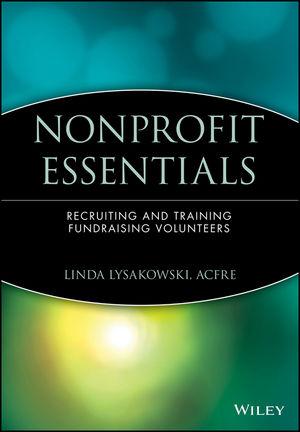 Nonprofit Essentials: Recruiting and Training Fundraising Volunteers
ISBN: 978-0-471-74007-0
Sep 2005
240 pages
Description
Praise for Recruiting and Training Fundraising Volunteers

"Linda Lysakowski brings into focus the realities of enlisting volunteers to ensure success in a campaign. She clearly outlines logical steps that lead to inspiring passion in the volunteer, who is so essential to reaching a goal. I wish such a comprehensive treatise had been available to me forty years ago!"
--Milton Murray, Director Emeritus Philanthropic Service for Institutions Adventist World Headquarters (Silver Spring, Maryland)

"It was a pleasure to read Ms. Lysakowski's book, which outlines the roles of volunteers in the art of fundraising. Linda has woven the guidance of the great masters of philanthropy and volunteer management partnered with her extensive life experience. This is a must-have resource for development officers and nonprofit leadership essential for both volunteers and management. I especially liked the 'In the Real World' examples of concepts in action that could be implemented locally."
--Ann H. Moffitt, CFRE, Vice President of Community Development Keystone Human Services, and CEO, Keystone Partnership (Harrisburg, Pennsylvania)

"Research and practice tell us that organizations that engage volunteers in fundraising have more sustained success, even in tough times. This book is a substantive contribution to the literature of volunteer fundraisers, and it reminds us of the honorable role of volunteers in fundraising, even in this time of the growing professionalization of staff fundraising."
--Timothy L. Seiler, PhD, CFRE, Director Public Service and The Fund Raising School, Center on Philanthropy at Indiana University (Indianapolis, Indiana)
Introduction.
1. Why and How to Use Volunteers in Fundraising.
2. Finding and Recruiting Fundraising Volunteers.
3. Volunteer Positions in the Capital Campaign.
4. Volunteers in Other Fundraising Roles.
5. The Role of the Board in Fundraising.
6. Training and Educating Volunteers.
7. Staff and Volunteers Working Together to Raise Money.
8. Getting Started.
Index.
Linda Lysakowski is the author of numerous articles and booklets on subjects related to improving fundraising effectiveness as well as a well-known and prolific teacher and speaker at local, regional, and international conferences and seminars.

The book includes easy-to-understand examples of typical volunteer organizational charts as well as sample position descriptions.

Part of the AFP Fund Development Series--promoted to all AFP members via newsletters as well as own their web site. Opportunities for teleconferences for members.