Nonprofit Internet Strategies: Best Practices for Marketing, Communications, and Fundraising Success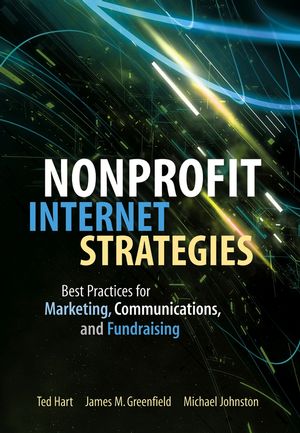 Nonprofit Internet Strategies: Best Practices for Marketing, Communications, and Fundraising Success
ISBN: 978-0-471-69188-4 March 2005 360 Pages
Description
Nonprofit Internet Strategies offers every charitable organization the opportunity to analyze their options and select the appropriate strategy to integrate traditional marketing, communications, and fundraising practices with their online efforts.

It is an excellent how-to guide--a practical manual for nonprofit staff written in non-technical language--prepared by experts in the field based on real-life experiences and case studies.
Buy Both and Save 25%!
Original Price:$98.95
Purchased together:$74.21
save $24.74
Cannot be combined with any other offers.
Foreword.
Introduction.
CHAPTER 1: ePhilanthropy Strategy: Where Relationship Building, Fundraising, and Technology Meet (Ted Hart, ACFRE, ePMT ePhilanthropyFoundation.org).
CHAPTER 2: It All Begins with Strategy: Using the Internet as a Strategic Tool (Anthony J. Powell, CFRE, ePMT Blackbaud Consulting Services).
CHAPTER 3: Multichannel Marketing (Marcelo Iñarra Iraegui, ePMT Greenpeace International).
CHAPTER 4: Staffing ePhilanthropy (Tim Mills-Groninger IT Resource Center).
CHAPTER 5: Integrating Online and Offline Databases to Serve Constituents Better (Jeff Gignac, CFRE, ePMT JMG Solutions, Inc.; Pamela Gignac JMG Solutions, Inc.).
CHAPTER 6: Online Community Building (George Irish, ePMT HJC New Media).
CHAPTER 7: Building Successful Online Communities (Sheeraz Haji, ePMT GetActive Software; Greg Neichin GetActive Software).
CHAPTER 8: Building Your Brand Online (Jason Mogus, ePMT Communicopia.net; Pattie LaCroix, ePMT Communicopia.net).
CHAPTER 9: Inspiring Donors Online: How Your Message Can Make People Feel Extraordinary (Todd Baker Champions of Philanthropy).
CHAPTER 10: Online Advocacy: How the Internet Is Transforming the Way Nonprofits Reach, Motivate, and Retain Supporters (Vinay Bhagat, ePMT Convio, Inc.).
CHAPTER 11: Volunteer Recruitment and Management (Alison Li, ePMT HJC New Media).
CHAPTER 12: e-Stewardship or e-VRM: Building and Managing Lasting and Profitable Relationships Online (Jason Potts, ePMT THINK Consulting Solutions).
CHAPTER 13: Introduction to Building an Integrated Fundraising Strategy (Stephen Love, ePMT Vervos; Shelby Reardon Craver, Mathews, Smith & Company).
CHAPTER 14: Annual Giving: Acquiring, Cultivating, Soliciting, and Retaining Online Donors (Michael Johnston, ePMT HJC New Media).
CHAPTER 15: Special Events and Sponsorships (Philip King, ePMT Artez Interactive; Dianne Sheridan Artez Interactive).
CHAPTER 16: Seeking Big Gifts Online: Planned Giving and Major Gifts (Michael Johnston, ePMT HJC New Media).
CHAPTER 17: Institutional Support: Foundation and Corporate Giving (Bob Carter, Ketchum; Kristina Carlson, CFRE, ePMT FundraisingINFO.com).
CHAPTER 18: ePhilanthropy Regulation and the Law (Bruce R. Hopkins Polsinelli Shalton Welte Suelthaus P.C.).
CHAPTER 19: Evaluating ePhilanthropy Programs (James M. Greenfield, ACFRE, FAHP J.M. Greenfield & Associates).
CHAPTER 20: The Future of ePhilanthropy: Final Thoughts (Michael Johnston, ePMT HJC New Media).
APPENDIX A: ePhilanthropy Code of Ethical Online Philanthropic Practices.
APPENDIX B: The Ten Rules of ePhilanthropy Every Nonprofit Must Know.
APPENDIX C: APRA Statement of Ethics.
APPENDIX D: The Gilbert E-Mail Manifesto for Nonprofits.
APPENDIX E: Glossary of Terms.
Index.