Nonprofit Management 101: A Complete and Practical Guide for Leaders and Professionals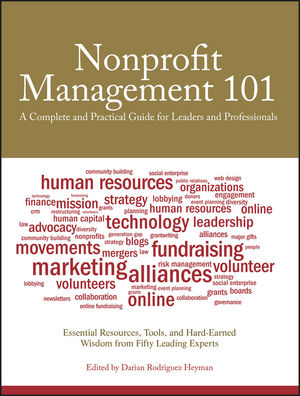 Nonprofit Management 101: A Complete and Practical Guide for Leaders and Professionals
ISBN: 978-0-470-28596-1 May 2011 Jossey-Bass 672 Pages
Description
A comprehensive handbook for leading a successful nonprofit
This handbook can educate and empower a whole generation of nonprofit leaders and professionals by bringing together top experts in the field to share their knowledge and wisdom gained through experience. This book provides nonprofit professionals with the conceptual frameworks, practical knowledge, and concise guidance needed to succeed in the social sector. Designed as a handbook, the book is filled with sage advice and insights from a variety of trusted experts that can help nonprofit professionals prepare to achieve their organizational and personal goals, develop a better understanding of what they need to do to lead, support, and grow an effective organization.
Addresses a wealth of topics including fundraising, Managing Technology, Marketing, Finances, Advocacy, Working with Boards
Contributors are noted nonprofit experts who define the core capabilities needed to manage a successful nonprofit
Author is the former Executive Director of Craigslist Foundation
This important resource offers professionals key insights that will have a direct impact on improving their daily work.
Foreword (Ami Dar, Idealist.org/Action Without Borders).
About the Book (Darian Rodriguez Heyman).
Acknowledgments (Darian Rodriguez Heyman).
Part One The Big Picture—What the Field Is All About and Where You Fit In (Darian Rodriguez Heyman).
Chapter 1 The Role of Nonprofits in American Life (Robert Glavin, MNA, University of San Francisco).
Chapter 2 Welcome to the Movement (Paul Hawken, OneSun Solar).
Chapter 3 On Leadership in the Nonprofit Sector (Emmett Carson, PhD, Silicon Valley Community Foundation).
Chapter 4 Taking Charge of Your Nonprofit Sector Career (Shelly Cryer, Consultant, and Kim Hendler, iMentor).
Part Two Managing Organizations and People (Darian Rodriguez Heyman).
Chapter 5 Strategy and Planning: Turning a Dream into Reality (Jeanne Bell, MNA, CompassPoint Nonprofit Services).
Chapter 6 Strategic Restructuring: Collaboration, Alliances, and Mergers (David La Piana and Bob Harington, La Piana Consulting).
Chapter 7 Risk Management and Insurance (Pamela Davis, Nonprofits Insurance Alliance Group).
Chapter 8 Making Human Resources Work for You: Best Practices in Nonprofit Human Capital Management (James Weinberg and Cassie Scarano, Commongood Careers).
Chapter 9 The Importance of Diversity (Michael Watson, Girl Scouts of the USA).
Chapter 10 Bridging the Generation Gap (Peter Brinckerhoff, Corporate Alternatives, and Vincent Hyman, Vincent Hyman Editorial Services).
Part Three Nonprofit Law and Finance (Darian Rodriguez Heyman).
Chapter 11 Nonprofit Law (Bruce Hopkins and Virginia Gross, Polsinelli Shughart).
Chapter 12 Nonprofit Advocacy and Lobbying (Nayantara Mehta, Alliance for Justice, Nancy Chen, Neighborhood Legal Services of Los Angeles, Marica Avner and Jeannie Fox, Minnesota Council of Nonprofits).
Chapter 13 Nonprofit Financial Management (David Greco, Nonprofit Finance Fund).
Part Four Nonprofit Technology and IT (Darian Rodriguez Heyman).
Chapter 14 The Technology Foundation: Hardware and Software (Holly Ross, NTEN: The Nonprofit Technology Network).
Chapter 15 Cooperative Approach to Web Design (Elliot Harmon, TechSoup Global).
Chapter 16 Online Community Building: How to Wire a Network to Support Your Nonprofit's Mission (Jon Warnow and Joe Solomon, 350.org).
Chapter 17 Constituent Relationship Management (Steve Wright, Grameen Foundation).
Part Five Fundraising (Darian Rodriguez Heyman).
Chapter 18 Fundraising: Knowing When to Do What (Andrea McManus, CFRE, The Development Group and The Association of Fundraising Professionals).
Chapter 19 Individual Donor and Major Gift Strategies: The 83% Solution to Fundraising (Kay Sprinkel Grace, CFRE, Transforming Philanthropy, LLC).
Chapter 20 How to Seek a Grant (Tori O'Neal-McElrath, Center for Community Change).
Chapter 21 Online Fundraising (Katya Andresen and Rebecca Higman, Network for Good).
Chapter 22 Online Peer-to-Peer Fundraising (Nicci Noble, CFRE, Noble Services, and Sean Sullivan, Center for Environmental Health).
Chapter 23 Cause-Related Marketing (Jay Aldous, Social Capital Partnerships).
Chapter 24 Social Enterprise 101: An Overview of the Basic Principles (Rick Aubry, PhD, New Foundry Ventures and Stanford University Graduate School of Business).
Part Six Marketing and Communications (Darian Rodriguez Heyman).
Chapter 25 Nonprofit Marketing (Jennie Winton and Zach Hochstadt, Mission Minded).
Chapter 26 Using Web 2.0 Tools to Tell your Organization's Story: Blogs, Flickr, and YouTube (Beth Kanter, Zoetica).
Chapter 27 Crafting an Effective Newsletter Strategy (Kivi Leroux Miller, NonprofitMarketingGuide.com).
Chapter 28 Painless and Effective Event Planning: Let's Get This Party Started! (Marika Holmgren, Organic Events).
Chapter 29 Public Relations for Nonprofits: Getting Ink for Your Cause (David Fenton and Lisa Chen, Fenton).
Part Seven Boards and Volunteers (Darian Rodriguez Heyman).
Chapter 30 Board Governance (Emily Heard and Vernetta Walker, BoardSource).
Chapter 31 Getting Your Board to Fundraise (Bob Zimmerman, Zimmerman Lehman).
Chapter 32 Volunteer Recruitment (Greg Baldwin, VolunteerMatch).
Chapter 33 Volunteer Engagement and Management (Michelle Nunn, HandsOn Network).
Closing Thoughts (Darian Rodriguez Heyman).
Afterword (Lynne Twist, Soul of Money Institute and The Pachamama Alliance).
Book Partners.
About the Editor.
Endnotes.
Name Index.
Subject Index.