Nonprofit Strategies and Entrepreneurship for University of Alabama - Birmingham EPUB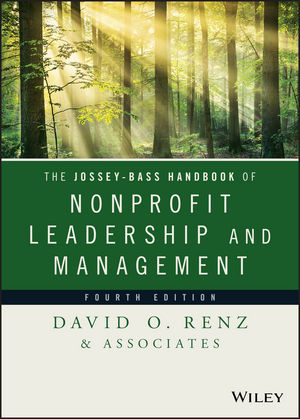 Nonprofit Strategies and Entrepreneurship for University of Alabama - Birmingham EPUB
ISBN: 978-1-119-50841-0
Mar 2018, Jossey-Bass
816 pages
Product not available for purchase
Description
THE JOSSEY-BASS HANDBOOK OF NONPROFIT LEADERSHIP AND MANAGEMENT
FOURTH EDITION
Revised and expanded, the fourth edition of The Jossey-Bass Handbook of Nonprofit Leadership and Management is the go-to reference for accessing the most current research, theory and practice in the field. The text puts the focus on the unique challenges confronting all nonprofit leaders, especially accountability, and the increased pressure to demonstrate results following one of the most challenging economic periods in the sector's history.
This important resource covers the primary functions, processes, and strategies that are key to becoming a successful nonprofit manager and leader. The fourth edition includes:
New information on hot topics including accountability, transparency, and organizational effectiveness
An integrative framework for understanding the larger domain of nonprofit leadership, governance, and management
Expanded content targeting associations and membership organizations
Ideas for managing internal and external stakeholder relationships
Approaches for sustaining financial viability
Strategies for attracting, retaining, and mobilizing first-rate staff and volunteers
In addition, the book contains chapter-by-chapter supplemental resources for instructors.
Figures, Tables, and Exhibits ix
The Contributors xiii
The Editor xxv
Introduction to the Fourth Edition xxvii
David O. Renz
PART ONE: THE CONTEXT AND INSTITUTIONAL SETTING OF THE NONPROFIT SECTOR 1
1 Historical Perspectives on Nonprofit Organizations in the United States 3
Peter Dobkin Hall
2 The Legal Framework of the Nonprofit Sector in the United States 43
Bruce R. Hopkins and Virginia C. Gross
3 The Changing Context of Nonprofit Management in the United States 80
Brent Never
4 The Many Faces of Nonprofit Accountability 102
Alnoor Ebrahim
PART TWO: LEADING AND GOVERNING NONPROFIT ORGANIZATIONS 125
5 Leadership, Governance, and the Work of the Board 127
David O. Renz
6 Executive Leadership 167
Robert D. Herman
7 Ethical Nonprofit Management: Core Values and Key Practices 188
Thomas H. Jeavons
8 Strategic Management 217
William A. Brown
9 Strategic Planning and the Strategy Change Cycle 240
John M. Bryson
10 Understanding Nonprofit Effectiveness 274
David O. Renz and Robert D. Herman
PART THREE: MANAGING NONPROFIT OPERATIONS 293
11 Social Entrepreneurship and Social Innovation 295
Matthew T. A. Nash
12 Social Enterprise and Nonprofit Ventures 334
Scott T. Helm
13 Marketing for Nonprofit Organizations 366
Brenda Gainer
14 Advocacy, Lobbying, and Social Change 396
Marcia A. Avner
15 Value Creation Through Collaboration 427
James E. Austin and M. May Seitanidi
16 Outcome Assessment and Program Evaluation 444
John Clayton Thomas
PART FOUR: DEVELOPING AND MANAGING NONPROFIT FINANCIAL RESOURCES 475
17 Financial Leadership in Nonprofit Organizations 477
Jeanne Bell and Shannon Ellis
18 Philanthropy and Fundraising: The Comprehensive Development Program 488
Sarah K. Nathan and Eugene R. Tempel
19 Nonprofit Finance: Developing Nonprofit Resources 509
Dennis R. Young and Jung-In Soh
20 Managing the Challenges of Government Contracts 536
Stephen Rathgeb Smith
21 Tools and Techniques of Nonprofit Financial Management 564
Woods Bowman
PART FIVE: LEADING AND MANAGING PEOPLE IN NONPROFITS 595
22 Effective Human Resource Management: Nonprofit Staffing for the Future 597
Mary R. Watson and Rikki Abzug
23 Compensation: Total Rewards Programs in Nonprofit Organizations 639
Nancy E. Day
24 Designing and Managing Volunteer Programs 688
Jeffrey L. Brudney
Conclusion: The Future of Nonprofit Leadership and Management 734
David O. Renz
Name Index 747
Subject Index 757