Norwegian Sweater Techniques for Today's Knitter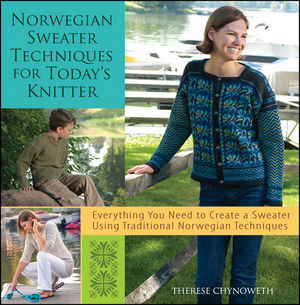 Norwegian Sweater Techniques for Today's Knitter
ISBN: 978-0-470-48455-5
May 2010
192 pages
Product not available for purchase
Description
Norwegian sweater construction is demystified in this one-of-a-kind, workshop-based book



Often considered intimidating and complex, Norwegian sweater construction is simplified in this one-of-a-kind, step-by-step book. You'll get all the skills and confidence you need to tackle any Norwegian sweater plus 20 patterns to make modern garments!

Beginning with a look at color stranded knitting methods, Norwegian Sweater Techniques progresses on to the various types of Norwegian pattern graphs (and how they can differ from Fair Isle patterns). An emphasis is given to the use of "cutting stitches" for cardigans and armholes, along with measuring for armholes, sewing along the sides of the cutting stitches, and cutting the fabric to create these openings.
Patterns utilize the advantages of Norwegian construction and apply them to non-traditionally Norwegian garments
Detailed color photos and drawings provide additional guidance
Norwegian techniques yield sturdier construction and a more versatile skill set
Norwegian sweaters have been popular for centuries, and it's no wonder-they're classic, warm, and often feature beautiful colorwork. Now you "cut without fear" and create your very own pieces employing these time-honored techniques.
I Exploring Norwegian Construction Techniques.
Introduction.
1 Why Knit in the Round?
2 The Role of Steeks.
3 How Facings Fit into the Picture.
4 Neckline Variations.
5 Pick Your Sleeves.
6 Shoulder Finishes.
II Anatomy of a Sweater.
7 Reading Norwegian Charts.
8 Creating a Hem.
9 Armhole Options.
10 Shaping the Neckline.
11 What to Do With the Shoulders.
12 Sleeves and Sleeve Facings.
III Cut Without Fear.
13 Measure, Mark, and Sew.
14 Now for the Cutting (Gasp!).
15 Nothing Fell Apart; So What Next?
16 Do You Need to Cut for a Neckline?
17 Women's Sweaters.
Falk Cardigan.
Svale Pullover.
Cruise Boat Neck Pullover.
Sonora Tunic.
Zara Cardigan.
Bouclé Mohair Cardigan.
Ambrosia Vest.
Green Line Cabled Pullover.
18 Men's Sweaters.
Heilo Pullover.
Oak Vest.
Cotton Jeans Henley.
Royal Llama Linen Cardigan.
19 Kids' Sweaters.
Moss Vest.
Balance Pullover.
Daylily Hooded Cardigan.
Terra Tunic.
20 Accessories.
Blue Sky Wrap.
Soft Linen Box Pillow.
Linen Jeans Purse.
Bonsai Shawl.
Knitting.
Abbreviations.
Bibliography.
Resources.
Index.